I love that I can reduce waste by taking my own containers to refill. The most local place for me to do this is The Full Pantry in Croydon. This family run business, established in 2004 when they opened a small store in a shopping complex, but are now more conveniently located in a larger premise at 66-68 Maroondah Hwy 3, Croydon. I wanted to know the story behind it, so interviewed Nelleke Arnold, where I learnt her about her dream, that is now a reality.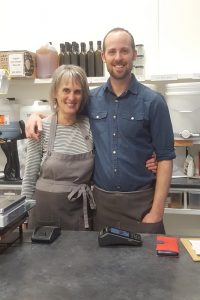 Nelleke started by telling me that  in the 70's,  the health food shops were starting to open up, and a lot of them were selling things in bulk containers where you would bring your bag or container back to be refilled. There was one at the uni she went to, where you  could get peanut butter fresh in a jar and make your own muesli  and she loved it.
But years down the track, when she was married with kids, she couldn't find a place like this. Nelleke kept thinking it would be so good if there was a place where she could go to buy the amounts she wanted. She liked to bake, but didn't always want a full bag of things. For example she would make a recipe about once a year that needed currants, but only needed 1/3 of the bag, which created waste.  Nelleke kept thinking that we need a place where people can scoop and buy as much, or as little as they need, she looked for that store, but couldn't find it.
There is a lot of waste because people are dictated to by pre-packed plastic bags, so often must buy a large amount, even if you only want a small scoop. She talked about this while her six kids were being schooled, but never did anything about it. One day she suggested to one of her sons, Joel, if we ever do this would you be interested, and he was, but it was only an idea then. One day Nelleke was walking through Croydon Central where she noticed a vacant shop. She casually inquired about it, and that was how it began. With a small amount of savings from an inheritance, she fitted out the shop and stocked it, then she looked through the yellow pages for suppliers. They learnt how to do everything as they went.
People didn't always know what to do and would ask how to store food they bought in the paper bags. They were told "you go home and store it in a glass jar, and it keeps better than plastic". Many people loved the concept. People come in with a list and get the exact amount they need for a recipe.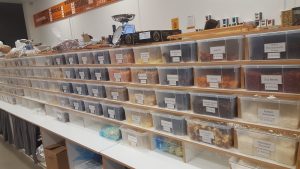 This is great for ingredients you don't use a lot of and for anyone who bakes fruit cake. Some ladies come in with mixing bowls, and measure it out, then go home and bake, which reduces food waste and saves time. I've never thought of that, so I know what I'll be doing for this year's Christmas cake!
It was really important to Nelleke that the products were fresh and good quality, which makes all the difference. And it is usually cheaper to buy this way, as it enables you to get the exact amount you need.
The same applies for muesli. Some people said they'd buy muesli and takeout the sultanas then throw them away. So now you can choose exactly what you want, with no waste. Nelleke has always been heavily into muesli, and wanted to make it how she liked it. The Full Pantry stocks muesli blends, or you can make your own.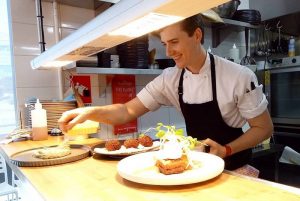 The Full Pantry stocks a larger range of products, including milk in refillable glass and cleaning products. There is also a café, where one of her sons is the chef. So you can grab a coffee or smoothie before you shop, or can have breakfast or lunch Monday to Saturday.
One of the considerations with the café, is food waste. The portions are not too huge, but not too small for the price. This significantly reduces food waste and if there are food scraps, they're composted. They even have reusable straws for anyone who wants one. They have really thought through ways that waste can be avoided.
In April 2018 they took the step to remove disposable coffee cups from the cafe. Some customers were not too impressed, but most have embraced it, or sit down to drink. Nelleke said this has decreased take-away coffee sales, but as it has eliminated 40,000 single-use coffee cups  there are no regrets. The motive is to operate sustainably, and the business as a whole is doing well.
I find shopping there really easy. If you take your own container, you weigh it before filling, otherwise you can use paper bags. But using your containers is better because, avoids adding to single-use waste.
You can follow The Full Pantry on
Facebook, Instagram and website.