Waste is everywhere in our society. The more waste we produce, the more of the earth's resources are depleted and the environment polluted.
Zero waste is a philosophy that encourages the redesign of resource life cycles so that all products are reused.
Practicing a literal "Zero Waste" life is not currently possible. All of us leave behind some kind of mark. The aim here is waste reduction and with just a few simple swaps this can be easily achieved.
We will share information and ideas to help you get started or progress your journey of waste reduction and show you that reducing waste can be simple, satisfying and fun.
Where to start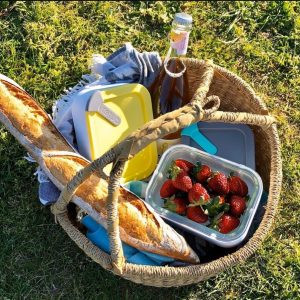 Hooray! You have made it here. Welcome!
If there is one place we recommend you start, it's with an open mind. Be kind to yourself and others. Set small simple goals.
Start by picking one single use plastic item in your life and swapping it for something reusable. From shopping bags, bread bags, coffee cups and cutlery to menstrual products and nappies, you will be surprised how many reusable options are available. Once you've mastered one swap, try another.
Now you're well on your way. Before you know it you'll be dancing through the front door on bin night because you don't need to drag yours out!
Visit our Resources page for great information, ideas and options.
Come along to one of our Events or Festivals.

BYO Containers for food and supplies
BYO Containers

BYO Container friendly butchers, delicatessens, fishmongers & poulterers
Business information (including what the law says about accepting a customer's reusable container, tips on safety)
Tips for customers

Trashless Takeaway – BYO container friendly cafes and restaurants
Responsible Cafes – Cafes that encourage BYO coffee cup (and offer a discount)
Keep connected on: