Eating out and trying to find businesses that operate sustainably and support your mission to avoid plastic can be a mine field. A question I am often asked is "where can I shop or eat out if I want to avoid single-use waste". I generally find it fairly easy as the places I frequent know me, and being a consultant and educator with a focus on sustainability, I know what to look for.  But many people just want to order or make a waste-free purchase without needing to figure it out. Or worse, you think you've got it covered than realise you've been given single-use plastic that you were trying to avoid. A classic is when you dine in, thinking you can avoid waste, but then you realise you have to ask for no burger skewer or chip bucket or straw. Classic example is here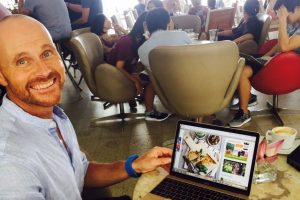 When I met Paul Hellier, of Fair Food Forager, a couple years ago, he introduced me to an app that has the potential to make this easy. Now I'm not tech savvy and I get over tech stuff very easily. But if you want to know where you can go to support a business who has sustainable practices, it is definitely worth checking this out.
I thought I would ask Paul a few questions about how he came up with this concept and how people can reduce waste when they travel. Here's what he had to say.
What was the inspiration behind Fair Food Forager?
I'd been picking up litter on my local beach for well over a decade and realised that most of this came from food packaging. But when I found a sea turtle that eventually died from swallowing plastic I was sparked to think bigger.
Inspiration for Fair Food Forager came from wanting to reach a wider audience outside of the people who are already consciously living sustainably. People often want to make more sustainable choices, so the Fair Food Forager app was developed to make it easier to choose better, and find more sustainable options.
Travel can also be tough when trying to reduce plastic or if you want to eat vegetarian, so I thought it would be great if other travellers could suggest places around the world so that others could benefit from their discoveries. There are many cafes and restaurants who try to be sustainable, but it's not always well promoted.
How can you use the app to find a help you make sustainable choices when eating out?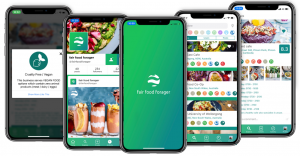 The app allows you to quickly see how dedicated to sustainability a food venue is. There are 16 sustainability and ethical classifications which are labelled with icons. You can filter your search based on what is important to you. If your main focus is to reduce single-use plastic, you can filter with the reduced plastic icon. You can also filter with other icons that matter to you like vegetarian, gluten-free & allergy options, fair trade etc.
Most of our venues have been listed by ambassadors, who are people who are very much aware of sustainability and looking to reduce foods and actions that impact on the planet. As these venues are crowd sourced, they can be based on what app users believe the business is doing. Through partnerships with organisations like Surfrider "Ocean Friendly" we are able to verify sustainability practices, as we move forward.
How receptive have people been to this concept?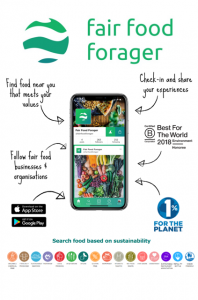 Feedback has been great, and there are two aspects to this.
Firstly, anyone running a business who is passionate about sustainability wants people to find them and know them as a business which cares about food, service, and sustainability.
Secondly, consumers looking to reduce their impact on the planet or travel responsibly want to quickly find local, zero waste, sustainable and ethically sourced food.
How useful can this app be for people who are travelling with an environmental and ethical conscious?
The app is perfect for traveling. Often we know the best places to eat in our hometown or where the bulk foods stores are. But when we are new to town or only visiting and we don't always have the time to find quality options.
I've also found that by default that when a business cares about waste or supporting locally home-made food, the food is automatically great, because they take great pride in what they do.
Can you share some of the challenges when travelling abroad when trying to be responsible and avoiding single-use waste?
Language barriers can make it challenging when trying to avoid waste, but I think enjoying yourself and the people can make it easier. Some places make it easier to make sustainable choices, but some venues make it much harder to avoid waste. Personally I find street food, which is common in Asia, the easiest way to avoid waste. Everything is right there in front of you, so you can either walk by the plastic cups and plastic plates and go straight to the one serving drinks in glass and food on plates. Takeaway street food can also be easier to negotiate because you can see the whole operation and communicate what you are wanting a little easier.
When travelling, water can be the biggest challenge, as potable tap water isn't always available. How do you work around this?
Many places particularly in Asia aren't as hard as you may think. Most hotels offer filtered drinking water so you can fill up your reusable bottle when you're at the hotel. Another great way to get around this is to fill up on table water when grabbing a coffee or juice in a café. In the tropics you can also top up fluids with coconuts.
You can also use a travel filter like Steripen or Life Straw which make it really easy. You can find out more information on my blog here
Tell us about Peloton Against Plastic, where you rode through Asia and documented the issues with single-use plastic when travelling?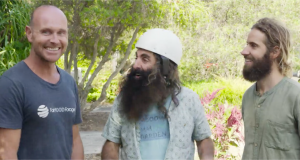 We traveled from Hanoi to Bangkok on bicycles and some buses and trains, talking to people who are passionate about stopping plastic pollution. We also did our best to avoid single-use plastic as we went, what we couldn't avoid we took with us. Sometimes this was easy and sometimes it wasn't.
With about 14 people on the ride we finished with a relatively small amount of plastic which is a great story. Showing that we aren't all perfect, but with a little bit of effort and while having a lot of fun we can make a big difference.
The idea of the film is to show that we can all make a difference while having fun along the way, rewarding effort and highlighting the positive efforts around the world.
Screening times for the Peloton Against Plastic can be found here
What were the biggest challenges on this adventure?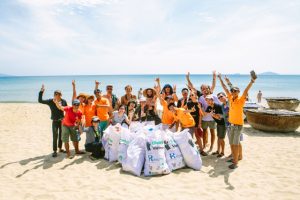 The biggest challenge was being on the road all day and then coming into town to meet people keen to talk about plastic solutions and still have the energy to be on all the time. We did this for 7 days a week for several weeks without a break.
What upcoming projects are on the cards for you?
At this point we are just happy to get through the making of the film. This wasn't easy to do on a budget of virtually nothing, but we got there and that's the most important thing. Hopefully we can continue our trend of getting things done and get the film out there for people to see.
The app has also recently had some updates that have really improved its performance, which is great. This is never ending, as there is always more to do to keep it relevant for people, easy and fun to use.
In times of such uncertainty for our environment and less than inspiring governments in power I think it's more important than ever to help people see that they have the power to make change. We can't just wait for politicians to do it for us, and any effort to change is a good start. So we keep encouraging, keep educating and keep leading by example.
You can find out more about Fair Food Forger here