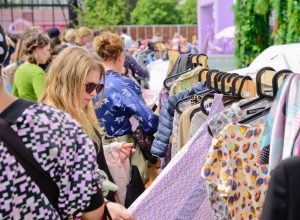 Reuse
Begin by focusing on one area of your life at a time. Try replacing all of the single-use eating utensils, water bottles, and paper plates with compostable or reusable alternatives.
Choosing second hand, repurposing and upcycling are fun, easy ways to champion reusing packaging and objects. Everything we manufacture whether it's clothing, homewares, or electronics, requires a range of resources to make and send around the world. Reusing helps to reduce the need to make new stuff that often ends up in landfill. Before buying something new consider how else you could find an item secondhand or supporting sustainability minded businesses putting the planet and people ahead of profits.
Clothing
Ziilch

 (free stuff)

.

OpShop.org

 – Op shop store locator

.

Consignment Stores

.

CharityBay

.

Host a clothing swap

.
Pre-loved/Second-Hand Goods, Homewares and Appliances
Buy Nothing Groups – find you local group on Facebook.

Ziilch

 (free stuff)

.

OpShop.org

 – Op shop store locator

.
Reverse Art Truck and Reverse Garbage

 – Rejects, seconds and factory offcuts for DIY, craft and schools. 

Local council waste and recycling transfer station reuse shops, aka 'tip shops'

.
Workplace
Connect
Buy Nothing Groups – join your local group
Freecycle – a grassroots & entirely nonprofit movement of people who are giving and getting stuff for free in their own towns.
Upcycleit Facebook group – a group all about earth friendly creative reuse of discarded , unwanted or underused resources to help minimise what heads to landfill.
Keep connected on: