Getting Started
Zero Waste Victoria's aim is to help empower Victorian's to downsize their waste through everyday actions while advocating for meaningful change.
Following our zero-waste heircharcy of actions will put you on the path to making changes that are good for you, the community, and our environment.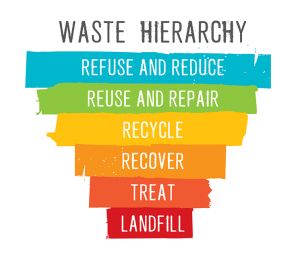 Reducing waste is an important step in the fight against climate change – it takes energy to make everything but uses more energy when we throw things away. Resource extraction, manufacturing emissions, transport emissions, environmental pollution, human exploitation is tied up in the take, make, throwaway systems around us. To learn more watch The Story of Stuff. The changes made in our homes, communities, and businesses are equally important to larger system changes in building a more fair and sustainable future.
We've put together our zero-waste steps of actions to start you on the path to making changes that are good for you, the community, and our environment.
Join the Zero Waste Victoria Facebook group to connect with members of the zero waste Victoria community – it's a safe space to ask questions and learn – we'd love to see you there.
Find more information to help you on your journey by following the links below
It might seem you can't avoid it, waste is everywhere. But there are many simple things that can be done to reduce waste. Being prepared helps with the challenge. Making lists when you shop can prevent impulse buying and over purchasing. Bring your own reusable shopping bags, produce bags and containers for food shopping and a reusable coffee cup, drink bottle and cutlery for takeaway food and beverages.
What we buy is also important. You can help reduce the impact of what you buy and consume by considering the following:
Prior to purchasing anything, ask yourself the question 'Do I need it?' If the answer is 'no', don't buy it. If the answer is 'yes' move on to step 2.
Can you alleviate this need by repairing an existing item?
Can you borrow/loan the item or buy it second hand?
Is there a package free option?
If you can't get it package free, can and would you reuse the packaging?
If you can't get it package free, is the packaging minimal and made from recycled materials?
Can you recycle the packaging or compost it at home at the end of its life?
Is the product sourced ethically?
Is there a local option available?
There are some great resources out there to help you on your waste free shopping journey. Here are some links to help you shop ethically and package free:
Read
A Family Guide to Waste-free Living – Lauren and Oberon Carter

A Zero Waste Life: In Thirty Days – Anita Vandyke

Waste Not: Make a Big Difference by Throwing Away Less – Erin Rhoads
Watch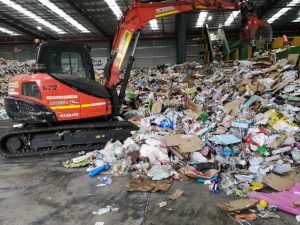 CHECK YOUR BIN
We think a waste audit is a great place to start – it helps your household, school or business to understand what is being thrown away and where changes can be made.
Before you toss your rubbish into your landfill bin, tip it out onto a tarpaulin and make a note of what is being thrown away

A rummage through your bin might not sound appealing so we made this graphic to give you an idea of what the everyday Victorian throws away
REFUSE
Learning to refuse waste can take some practice, but incorporating this step into your purchasing patterns is the most effective way to minimise waste. Refusing to buy wasteful or non-recyclable products is a great first step. When buying try refusing unnecessary product packaging and request reusable or returnable containers. Making smarter purchasing decisions and setting standards and expectations early in the process makes it easier for you to "refuse" waste in the first place.

REDUCE
Every piece of plastic ever made still exists somewhere with single-use making up almost half of the plastics we throw away. It's threat to the natural environment and our health is an ever increasing concern. The best solution is to reduce what we can and ask businesses to rethink their need to use the material in the first place
Food waste and food packaging take up most of our bin, in and outside the house. Jump to Compost for tips to tackle food waste.
Reduce food packaging by:
shopping at bulk food stores where food like pasta, flour, oils, chocolates, peanut butter, beans, nuts, cleaning products, beauty products and more is unpackaged for the customer. You simply take your own clean jars, containers, bags to fill up

choosing plastic-free fruit and vegetables, and bagging them with a reusable produce bag

Take BYO containers to deli and butchers for more information see

BYO Containers

Take your own reusable shopping bags, coffee cup, drink bottle and cutlery.

Making a list before you head to the shops can prevent impulse buying and over purchasing.

Put together a zero-waste kit to use out and about. This could be a reusable shopping bag, coffee cup, drink bottle, and cutlery.
Connect
Beach Patrol – BeachPatrol is a Victorian based litter collection volunteer group spread over many postcodes. Data is placed into their Litter Stopper app and is used to help advocate for change.
BYOContainers –

To help you locate businesses that allow you to bring your own containers to reuse and refill

Green Caffeen – FREE for cafes and coffee drinkers –

Scan, swap, drink, return. Green Caffeen is a FREE reusable coffee cup system for eco-focused cafes and coffee lovers across Australia. Cafes love it, coffee drinkers dig it and the planet high fives you for it.

Love Our Street – Love Our Street aims to bring people together as a community to look after our environment, to keep our streets beautifully clean and stop litter getting into our creeks, canals, on to beach or in the ocean.
Plastic and Waste-Wise Initiatives for parents and families

Tangaroa Blue

–

an Australia-wide not-for-profit organisation dedicated to the removal and prevention of marine debris: one of the major environmental issues worldwide.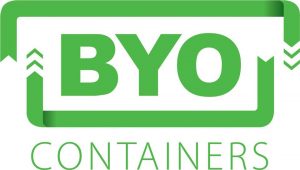 Watch
Junk Raft

by plastic pollution researcher, Dr Marcus Eriksen (an amazing story about his journey on a raft made from plastic bottles across the Pacific and more!)
Read
EcoCentre's Clean Bay Blueprint Project – a three year project (2017-2020) analysing the microplastics and litter in the Birrarung/Yarra River and Maribyrnong River

Marcus Eriksen

ha

s a great resource through his research institute website –

5gyres.org

Plastic Free: ​ The Inspiring Story of a Global Environmental Movement and Why It Matters by Rebecca Prince-Ruiz and Joanna Atherfold Finn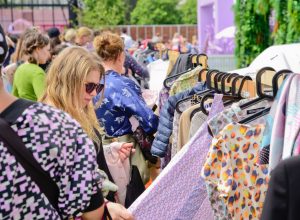 REUSE
Begin by focusing on one area of your life at a time. Try replacing all of the single-use eating utensils, water bottles, and paper plates with compostable or reusable alternatives.
Choosing second hand, repurposing and upcycling are fun, easy ways to champion reusing packaging and objects. Everything we manufacture whether it's clothing, homewares, or electronics, requires a range of resources to make and send around the world. Reusing helps to reduce the need to make new stuff that often ends up in landfill. Before buying something new consider how else you could find an item secondhand or supporting sustainability minded businesses putting the planet and people ahead of profits.
Clothing
Ziilch

(free stuff)

OpShop.org

– Op shop store locator

Consignment Stores

CharityBay

Host a clothing swap
Homewares and appliances
Workplace
Pre-loved/Second-Hand Goods
Online forums to find second-hand items:

Ziilch

(free stuff)

OpShop.org

– Op shop store locator

Reverse Art Truck and Reverse Garbage

– Rejects, seconds and factory offcuts for DIY, craft and schools

Local council waste and recycling transfer station reuse shops, aka 'tip shops'
Connect
Buy Nothing Groups – join your local group
Freecycle – a grassroots & entirely nonprofit movement of people who are giving and getting stuff for free in their own towns.
Upcycleit Facebook group – a group all about earth friendly creative reuse of discarded , unwanted or underused resources to help minimise what heads to landfill

ROT / COMPOST
By volume, food waste makes up most of our bins. Since landfill sites are tightly packed food waste don't break down in landfill and are a wasted resource when they end up there. When our food scraps end up in a compost bin and are put onto our gardens or farms it helps replenish soils and is a key step in tackling climate change.
Before we jump into composting there are other steps to help reduce food waste.
Making a list before you head to the shops can prevent impulse buying and over purchasing.

Shopping the fridge and pantry first

Plan out meals to help make sure everything you buy is eaten

Pass on any food you won't eat but is still edible to friends and family, or into the community via a Food Pantry or the

Olio App

.
Ways to compost
Look into a compost bin, tumbler, or building your own in the backyard.

Worm farms and bokashi bins suit those with smaller yards, courtyards, or balconies.

ShareWaste app

& website helps you find somewhere to drop off your food scraps or receive free food scraps for your compost bin, worm farm or chooks. A great option for those in small spaces or while travelling

Local council

food waste collection – Many local councils offer this service, check your council's bin collection webpage for Food Organic Green Organic (FOGO) Green bin collection services.

(pic of green bin & the compost kitchen scrap container?)

Chickens not only make great additions to help reduce food waste, they are also fun pets and you'll get fresh eggs in return.
Food Waste
Compost Depot – Are dedicated to stopping food scraps from ending up into landfill by offering community compost solutions.

Local council

food waste collection – Many local councils offer this service, check your council's bin collection webpage for Food Organic Green Organic (FOGO) Green bin collection services.

(pic of green bin & the compost kitchen scrap container?)

Reground for commercial coffee compost

ShareWaste app

– Find somewhere to drop off your food scraps or receive free food scraps for your compost bin, worm farm or chooks
Watch
Read
Composting for a New Generation: Latest Techniques for the Bin and Beyond by Michelle Blaz

The Less Waste No Fuss Kitchen by Lindsay Miles

The Waste Between Our Ears by Gery Gillepsie
Connect
Bookmark
Olio App – share surplus food with neighbours

RECYCLE
Recycling is the last step but still an important one. Become a smart recycler by making sure your kerbside recycling bin is free from contamination and only placing items inside accepted by your local Council.
Check out your local council recycling collection page to know which items can be recycled in your yellow bin. Each council's recyclable items are different depending on the recycling sorting company that has been contracted and their buyers of recyclable materials. If in doubt, ask your Council by phone or email.
Most Councils have a Transfer Station or Waste hub accepting items like electronics (anything with a cord or battery), mattresses, styrofoam, metal and more. This information will be found on your Council website.
There are many items that can be recycled outside of your kerbside recycling bin. Recycling Near Me is a helpful website to find out where to recycle harder items.
ASGA Save Our Soles takes shoes like runners, sneakers, football boots, athletic lifestyle shoes, thongs and slides for recycling at a range of

in-store locations

.

MobeCo – accept old Yoga equipment and self massage tools
Planet Ark – Planet Ark Environmental Foundation is an Australian not-for-profit organisation that helps individuals, communities, governments and businesses reduce their impact on the environment

Priceline in partnership with TerraCycle – Make-up packaging can be dropped at Priceline stores

Recycling Made Easy– An independent Melbourne recycling directory for many items that cannot be put in the yellow bin.

REDcycle- Drop off soft plastics at Woolworths and Coles REDcycle bins. Check out their website to know what happens to collected soft plastics.

Sheridan

accept pre-loved sheets and towels from any brand at your local Sheridan store.

Shoes for Planet Earth – An Australian based non-for-profit organisation started in 2009 by people who love to run and want to give something back. We're working together with local communities to provide recycled running shoes to those in need around Australia.
Soles4Souls – Australian charity collects new, used and worn sneakers, sandals, boots and shoes for children, women and men in need around the world. In total, more than 100,000 pairs of shoes have been donated and distributed to people in need.
Upparel – Textile recycler who pioneered a digital textile recycling revolution that changed the planet forever.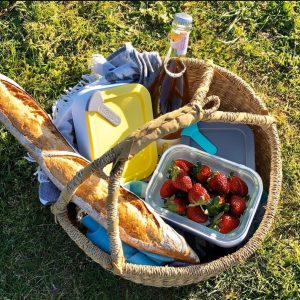 Other Ways to reduce waste to make a big impact
Listen to First Nations People
Connect and learn from First Nations people, the original zero-waste leaders of the land we reside on here and across the world.
Farmer's Markets
Victorian Farmers' Market Association – Shrink the food miles (and carbon emissions) by supporting Victorian Farmers' by visiting an accredited Victorian Farmers Market and shopping locally and seasonally – List of accredited farmers markets
Free Pantry
Reduce those food miles even further and get inspired to start a Food is Free project, like the one in Ballarat. There are Free Food Pantries opening up all over Victoria where people drop off food, seeds, plants and more. There is also Grow Free to help locate free food carts too. Join Grow It Local and start sharing your backyard, balcony or windowsill produce with others. You might like to try out Ripe Near Me, a helpful website to find free food too.
Connect
Joost Baker's Future Food System. – Learn about a home that produces no waste

– This

self sustaining, zero waste, productive house demonstrates the potential of our homes providing shelter, producing food and generating energy. Take a tour and watch the youtube videos.

Cam Saves the World – a young change maker

Karin Ecker aka

Plastic Free Boy

-a passionate and inspiring young leader who has been on a 4.5-year journey, determined to help school students to become global citizens of change.
Open Table – is a not-for-profit community organisation focused on preventing food insecurity and food waste.
Join a local group
Film
The Environmental Film Festival Australia is an annual festival of groundbreaking films that traverse the relationship between humans and their environments, challenge the way people think about the natural world and inspire them to discuss, explore and act on important environmental issues. Each year, EFFA brings an exciting program of films, panels and events.
Travel
Ever thought about travelling Australia without a car (or plane!). Follow Meg Ulman and Patrick Jones otherwise known as @artistasfamily.
Keep connected on: