Zero waste travel certainly has its challenges especially when out of your comfort zone and visiting a country that is known for its problems with waste. My husband and I travelled to China recently on a tour of the main cities and attractions- Beijing, Shanghai plus the Great Wall of China and terracotta warriors. I was interested in seeing how my hubby and I would go with our aim to be zero waste as much as possible on our tour but also what China offered towards reducing waste-only a glimpse as a tourist. Phase one- our flights on Qantas domestic and international.
I waited with anticipation and curiosity for the first drinks trolley cart on my Melbourne to Sydney Qantas flight. I had my keep cup ready along with my makeshift zero waste kit as I eyed the approaching trolley. My kit includes: a thrifted pencil case that doesn't close properly, plus a motley crew of bioplastic cutlery (that I got in past takeaway that I keep reusing), as well as rice husk made sporks and metal straw- two of each item for hubby and me. Finally the trolley reaches me and I ask for a juice in my Keepcup, the flight attendant looks a little bemused but she fills the cup on my tray table- success! One challenge down a few more to go….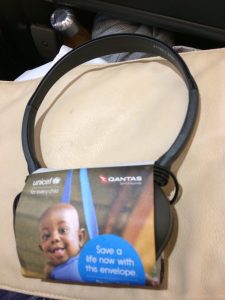 Qantas recently announced they would start lowering their waste on domestic flights commencing officially in October of this year and being eventually rolled out to all flights. Qantas plans to use a mixture of reuseable, compostable and recyclable packaging for their refreshments, meals and creature comforts[1]. I was looking forward to checking out their progress on both our domestic and international flights.
First impressions- Qantas was certainly starting the process; their complimentary headphones were not covered in plastic but instead had a recycled paper band covering the earphones for protection and hygiene. This was the same on their international flights. My hubby and I chose to bring our own noise cancelling earphones that are reusable. The blankets were covered in plastic wrapping but hopefully they could be recycled at least until another solution was found. I did wonder, "Do the blankets even need individual plastic coverings after they are cleaned?" meanwhile the pillows had washable covers. We decided not to use the blankets knowing about the plastic cover.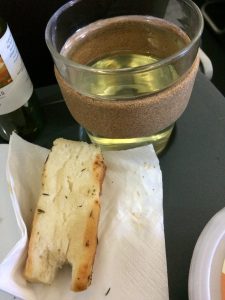 The meals on our international flights were conventional plastic trays with foil covers plus plastic cutlery although bread and pastries were served from a large bulk container rather than individually wrapped. I avoided the use of cutlery giving that back to the attendants and used my Keepcup for drinks. Dessert was also served in a plastic container. We didn't avoid the meals due to hunger and having paid for them. A complimentary plastic water bottle was provided and avoided thanks to bringing our own water bottles. We refilled them from the handy drinking water tap available in the aisle. Phase one of our trip done- now for our tour.
China is a country of 1.4 billion people and managing waste is only one part of their environmental challenges whilst developing at an extraordinary rate.  During our travels locals carrying large sacks of plastic bottles would approach our tour group at different times asking for empty bottles. I later learned these locals are informal waste collectors that exchange plastic bottles and other waste for cash. China's cities do not have structured household recycling services and relies on these informal collectors to divert waste. According to recycling expert Adam Minter, China has been successful in diverting the majority of its plastic bottles from landfill by using informal collectors[2]. Landfill and recycling bins are also available on every street. Since banning the import of foreign waste such as Australia's, China is implementing a combination of waste reduction policies and technology driven waste solutions to reduce its waste and in many ways lead the way to having a circular economy[3].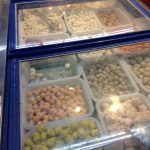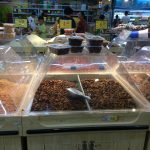 China's waste management aside, travelling in a tour definitely limited the control that we had avoiding certain waste. My prior research had found that China's tap water was not potable and people relied on water purifiers and filters. I considered buying a Steripen but had seen mixed reviews and did not have the budget. Water filters were noted as being commonly found in China so much so, that I fully expected they would be at the 3-4 star hotels included in our tour. Much to our disappointment, water filters were only available at two of the five hotels that had been pre-selected for our group. Even the breakfast buffets did not have any water as China does not serve chilled water due to health reasons. Consequently we had to drink from plastic water bottles- It was a massive blow as I have avoided plastic water bottles at home for two years. I kept all bottles to recycle or give to the waste collectors as much as possible.
There was also a lot of soft plastic on snacks which we mostly avoided but sometimes couldn't as we wanted to try the local snacks as part of our travel. We found out a major supermarket chain, Dennis daily fresh, had a large bulk dry foods and bulk frozen food section. Plus we ate in at most local eateries. We also avoided a lot of plastic bags by taking our own reusable bags. All in all it was an interesting challenge, our verdict- it can be difficult to be zero waste whilst travelling, it's doable if you do your research about your destinations and airline and if you are willing to go without certain experiences. If possible I would recommend investing in a Steripen as part of your travel budget when travelling to developing countries as a backup or borrow one.
[1] Qantas operates first zero waste flight, Qantas newsroom May 2019: https://www.qantasnewsroom.com.au/media-releases/qantas-operates-worlds-first-zero-waste-flight/
[2] China's informal army of recyclers keep plastic bottles out of landfill, The Guardian June 2017: https://www.theguardian.com/environment/2017/jun/28/china-informal-army-recyclers-plastic-bottles-landfill
[3] China generates more waste than any other country. How does it deal with it?, The World Economic Forum, Dec 2018:  https://www.weforum.org/agenda/2018/12/no-chopsticks-with-my-takeaway-how-china-is-tackling-food-waste-with-digital-innovation/