Zero Waste Victoria's mission is to empower Victorians to downsize their waste through everyday choices, while advocating for meaningful change. We shift mindsets, facilitate action and spotlight solutions to reduce waste. Our impact is to amplify the community voice and connect people, inspiring and enabling them to reach their zero waste goals.
Our vision is to:
Work with and inspire people to take action against waste because we believe in a world where people and planet flourish together
Educate, empower and lead community initiatives
Lead advocacy in waste avoidance and reduction policies and legislation
Zero Waste Victoria is a not-for-profit charity seeking to address the growing issues of waste, recycling and sustainability in the community. We host information stalls, educational and thought-provoking talks and workshops which inspire and empower people and organisations to reduce waste, focus on Product Stewardship and take action on related sustainability issues.
If you would like to engage the services of Zero Waste Victoria to host an information stall or run a workshop at a school, festival, fete or community event, or a lunch time session for employees at your workplace, visit the contact us page to get in touch.
REFUSE – REDUCE – REUSE – ROT/COMPOST – RECYCLE – REPAIR – SHARE/BORROW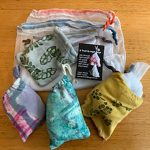 Keep connected on: