Zero Waste Victoria has grown from humble beginnings. The seed for Zero Waste Victoria was unknowingly sown when Hannah Mitchell saw a post in one of her Facebook groups asking a question about zero waste. She tried to find a local zero waste group but there wasn't one, so she started the Zero Waste Victoria Facebook group to help build local connections.
A callout was made by facebook group member, Erin Rhoads to see if there was interest in setting up a zero waste information stall at a festival. The idea was to speak to the public in person and encourage them to reduce waste.
Kirsty Bishop-Fox, Emily Hui, Lisa Sturges and Che Hall, joined forces with Erin to create a display of zero waste swap outs for the Sustainable Living Festival in February 2017. And a basic website was set up with resources to support the event. This was inadvertently how Zero Waste Victoria came to exist as a group outside of facebook.
Following this, Zero Waste Victoria was invited to attend further events, and continued to spread the zero waste message.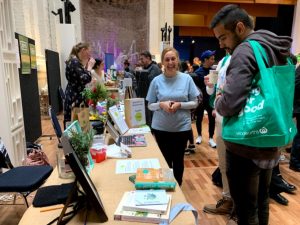 In August 2018 we held the inaugural Zero Waste Festival and over 500 people attended, which we thought was a great success.
So in February 2019 we took the step to become incorporated as a not-for-profit organisation and registered charity.
We opened our doors to membership and supporter donations at our second Zero Waste Festival in October 2019, where over 1,000 people attended.
In 2020 and 2021 the Zero Waste Festival shifted online, which extended our reach even further.
Zero Waste Victoria has gone from strength to strength, becoming recognised for community education and also for government advocacy. We are grateful for everyone who has supported us so far, and are thrilled that we can also take a professional approach to inspire and empower more people and organisations with their efforts to make sustainable changes and reduce waste.
If you would like Zero Waste Victoria to support your event, or you would like to get the conversation started about reducing waste, please email info@zerowastevictoria.org.au
Get to know our Committee members.
Keep connected on: