Festival Clothes Swap
Zero Waste Victoria is partnering with The Clothing Exchange to host a Clothes Swap at the Zero Waste Festival.
This sustainable fashion event is a wonderful opportunity to update your wardrobe and reduce waste at the same time.
When: Saturday 2 September, 2023
Drop Off: 10am -12 pm
Swap: 12:30 – 2:30 pm
Where: Fed Square
Cost: Free (gold coin donation)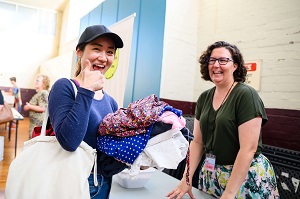 HOW THE SWAP WORKS
Bring 1 to 5 (maximum) items of clothing or accessories to add to the swap collection pool.
Items will be sorted and placed on racks and tables by our team of volunteers. While you wait, why not check out our exhibitors or get lunch from one of our food vendors? To hear more about what we can do to tackle fashion waste, join us for a panel discussion on Confronting the Fashion Waste Crisis from 11:30am-12:20pm.
The swap will be declared open at 12:30 pm. When you donate items for the Swap, you'll receive tickets which you can exchange for items to take home.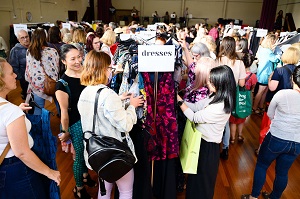 SWAP GUIDELINES
What items can I bring to the swap?
Bring 1 to 5 (maximum) items of clothing or accessories to add to the swap.
Items should be clean, good quality and in good condition (i.e. don't bring anything you wouldn't give to a close friend). This means no signs of wear, broken zippers, pilling, or stains. Missing a button? Take your clothes to the Mending Circle and learn how to fix them.
This swap is for ALL SIZES & GENDERS so we encourage you to bring clothing designed for all body types. We can't guarantee you will find something as it depends on what people bring; but accessories are included in the pool, so we hope there will be something for everyone.
What not to bring?
We will not accept underwear, swimwear, pyjamas and overused items.
PLEASE NOTE THAT ITEMS THAT DO NOT MEET THIS CRITERIA CANNOT BE ACCEPTED INTO THE SWAP.
—
---
---
So what are you waiting for? Check out the full program and join us at the Zero Waste Festival 2023:
Note: When you checkout with your ticket, select Clothes Swap in the activities you are interested in attending.