Zero Waste Victoria provides a
dvocacy through government inquiries and reviews including:
Background
The term right to repair describes a consumer's ability to repair faulty goods, or access repair services, at a competitive price. This can relate to a range of product faults, including those for which the consumer is responsible. It may include a repair by a manufacturer, a third-party, or a self-repair option through available replacement parts and repair information.
The Competition and Consumer Act 2010 (CCA) prohibits anti-competitive behaviour such as exclusive dealing (section 47); however, many right to repair issues are the result of conduct that is not being captured by the prohibition. In many cases, suppliers do not impose any such restrictions on consumers with respect to the repair of products they supply. Instead, consumers or third parties are prevented from being able to repair the products due to a lack of access to necessary tools, parts or diagnostic software.
For these reasons; existing provisions amount to some limited rights or protections in relation to repair facilities in Australia, but do not amount to a full 'right to repair'. As such, premature product obsolescence and a lack of competition in repair markets remain. The expense of repair and product design accelerate the transfer of consumer goods into waste.
Zero Waste Victoria submitted two submissions
1 February 2021 – https://www.pc.gov.au/__data/assets/pdf_file/0010/272575/sub090-repair.pdf
19 August 2021 – https://www.pc.gov.au/__data/assets/pdf_file/0012/279948/subdr235-repair.pdf
1 December 2021 – The final report was released – https://www.pc.gov.au/inquiries/completed/repair/report
In 2019 Maroondah Council undertook consultation with the community to inform the development of a 10 year Waste, Litter & Resource Recovery Strategy.
During 2020, the waste services team developed a draft transition plan to meet the requirements of the Victorian Government's new Waste Policy: Recycling Victoria; A New Economy, February 2020 (Recycling Victoria Policy).
The draft transition plan included details of how Maroondah will transition to the following service requirements of the Recycling Victoria Policy:
Councils to provide households access to a Food Organics Garden Organics (FOGO) service by 2030. Maroondah intends to introduce this service in May 2023.
Councils to provide households access to a separate glass recycling service by 2027. Maroondah intends to introduce this service following further consultation in June 2027.
The standardisation of bin lids (no date provided). Maroondah will standardise the recycling and garden organics bin lids in May 2023, and the general waste bin in June 2027.
In 2021 Council conducted a consultation process for the proposed draft Waste, Litter & Resource Recovery Strategy for feedback.
2021 – Zero Waste Victoria's feedback
Overview
On 27 June 2019, Recovered Energy Australia Pty Ltd (REA) submitted a final works approval application to EPA. The application was approved on 21 January 2020.
The works approval is for the development of a modular gasification waste-to-energy facility which will process 200,000 tonnes/year (+/- 20%) of source separated municipal solid waste (MSW). The MSW will be sourced from council kerbside collections in metropolitan Melbourne.
The facility location is 28 Alex Fraser Drive, Laverton North VIC 3026.Zero Waste Victoria represented community concerns at the VCAT hearing
2020 – Zero Waste Victoria's Media Release
Overview
The Victorian Government is introducing a container deposit scheme (CDS) to increase beverage container recycling and reduce litter in Victoria.
A container deposit scheme works by including the recycling cost in the retail price of the beverage. When the empty beverage can, carton, or bottle is returned to a collection point, a 10 cent cash refund can be collected.
Victoria's CDS is being designed to deliver:
more and better recycling
less waste – old containers become new ones
less litter – cut by up to half
hundreds of new jobs and economic opportunities across Victoria
a cleaner, greener state.
It will be a new, easy way to earn money and clean up Victoria at the same time and it gives charity, community, and sports groups new ways to fundraise.
November 2020 – Zero Waste Submission
On 23 October 2019 the Committee adopted an inquiry referred by the Minister for Industry, Science and Technology, the Hon Karen Andrews MP, asking the Committee to inquire into and report on innovative solutions in Australia's waste management and recycling industries.
The Committee invited interested persons and organisations to make a submission addressing the terms of reference by Friday 31 January 2020.
2020 – Zero Waste Submission
Terms of Reference
On 6 March 2019, the Legislative Council agreed to the following motion:
That this house requires the Environment and Planning Committee to inquire into, consider and provide an urgent interim report, as the committee deems necessary, on the current circumstances in municipal and industrial recycling and waste management, and provide a final report, by Tuesday, 13 August 2019, on the crisis in Victoria's recycling and waste management system, partly resulting from the China waste importation ban, including, but not limited to:
the responsibility of the Victorian government to establish and maintain a coherent, efficient and environmentally responsible approach to solid waste management across the state, including assistance to local councils;
whether the China National Sword policy was anticipated and responded to properly;
identifying short and long-term solutions to the recycling and waste management system crisis, taking into account:

the need to avoid dangerous stockpiling and ensure recyclable waste is actually being recycle
the cleaning and sorting capabilities and the processing capabilities in Victoria and the potential to expand the local recycling industry
how to better enable the use of recycled materials in local manufacturing;
the existing business model and economic challenges facing the existing industry;
the quantifiable benefits, including job creation and greenhouse gas emissions reduction, of pursuing elements of a circular economy in Victoria;
the existing Sustainability Fund and how it can be used to fund solutions to the waste crisis;

strategies to reduce waste generation and better manage all waste such as soft plastics, compostable paper and pulp, and commercial waste, including, but not limited to:

product stewardship;
container deposit schemes;
banning single-use plastics;
government procurement policies

relevant reviews, inquiries and reports into the waste and recycling industry in other Australian jurisdictions and internationally;
any other related matters.
Zero Waste Victoria' submission
30 May 2019 – Submission 631 – https://www.parliament.vic.gov.au/images/S631_-_Zero_Waste_Victoria.pdf
The review addressed:
the extent to which the objects of the Act are being met and whether they remain appropriate
the effectiveness of the accreditation of voluntary product stewardship schemes and the Minister's annual Product List in supporting product stewardship outcomes
the operation and scope of the National Television and Computer Recycling Scheme
the interaction of the Act with other Commonwealth, state, territory and local government legislation, policy and programs, and
international and domestic experience in the use of product stewardship to deliver enhanced environmental, social and economic outcomes through product design, dissemination of new technologies and research and development.
The report includes 26 recommendations in relation to the operation of the Act and the NTCRS, which were supported by the Australian Government.
The findings of the review are welcomed, and the department has commenced actions to implement the recommendations.
The National Waste Policy provides a national framework for waste and resource recovery in Australia. It outlines roles and responsibilities for collective action by businesses, governments, communities and individuals.
The National Waste Policy guides continuing collaboration between all Australian governments, businesses and industries. It does not remove the need for governments, businesses and industries to implement tailored solutions in response to local and regional circumstances.
The first National Waste Policy was published in 2009. An updated National Waste Policy was published in 2018.
For more assistance in commencing local campaigns here is a useful tool to use developed by Dale Martin.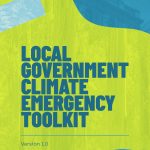 Helping councillors, council staff and community members enact urgent climate emergency action in their community. This toolkit offers practical recommendations for how local governments (also known as city councils and local councils) can take immediate action to address the climate emergency. It is written for local government councillors, officers and community members who want to take climate action.
The toolkit has been developed in consultation with industry experts, council employees, community groups, campaigners and both current and former councillors. It was developed by Dale Martin after serving four years as councillor in the City of Moreland, Victoria, Australia and after successful efforts advocating and campaigning on a range of issues, including co-founding and campaigning on the 'Plastic Bag Free Victoria' campaign with community groups right across the state of Victoria.
The toolkit has been designed to provide an understanding of local government, it's decision makers, key documents and accompanied by specific and measurable recommendations, with suggested time frames to address the climate emergency. Actions are designed to be easily implemented with information on who can implement them, how they can be implemented and by what method.
Keep connected on: