Sometimes your mending pile piles up…even when you've learnt to mend. So we spoke to Rachel Wood, one of the Studio Coordinators and Trainers from Second Stitch to find out more about the story of their not-for-profit social enterprise that has a mending and alternations studio, a shop front in Coburg and more! Second Stitch have a focus on community building, as well as a zero waste philosophy behind their work.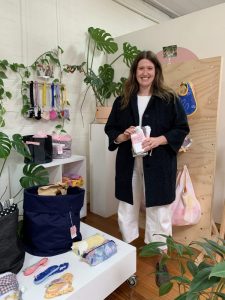 Emily (ZWV): Thanks for making the time today. So tell us a bit about Second Stitch in this beautiful space in Coburg…
Rachel:
Second Stitch is a NFP organisation that has been operating out of our Coburg Studio for around five years. It started off with just a few people gathering in a small area at the front of the studio, with just a couple of domestic machines and basic supplies. Second Stitch a part of VICSEG New Futures – a NFP organization working with people from refugee, asylum seeker and migrant backgrounds to build new pathways through skill building and social equity. There was some interest amongst students and staff members around textiles, and many would gather in the space after their classes, repairing their garments for family and friends. This created quite a buzz and shortly after it was decided there would be great value in adding the Certificate III in clothing and textiles on the scope. Soon enough, we were using every inch of the studio – offering the Certificate III in clothing and textile production, a repairs and alterations service and a small-scale production and design studio.
The team has done a lot of work to weave our sustainability values into the course – students work with a large amount of donated and 'end of the roll fabrics, as well as using zero waste designs and patterns, with a focus on minimizing their textile waste. The course includes a repairs and alterations unit where students receive first-hand experience of working in an alterations business and receive specialised training from our experiences seamstresses.
As Second Stitch has grown, our repairs and alterations service has too. We offer specialised repairs and quality alterations to the community and our trained seamstresses love a challenge. More recently we have begun working with local fashion houses – to repair any production faults, or fix problems that may arise after the garments have entered the shop floor. This is a really great initiative, as it supports the training side of our organisation as well as reduces a lot of textile waste in the community.
During the pandemic, our training department was forced to close, and our studio was transformed into a small production house specialising in PPE -reusable cloth masks to support the community in minimising the transmission of Covid-19 and reduce the amount of single-use masks being used in the community. We were able to provide our seamstresses with important employment opportunities during this time and have managed to continue to grow our small-scale production team. The production team designs and develops products with sustainability at their forefront – using mostly donated and dead-stock fabrics, trims and notions. Our products are designed to minimise waste and help educate our community about ways we can all support make changes for a sustainable future.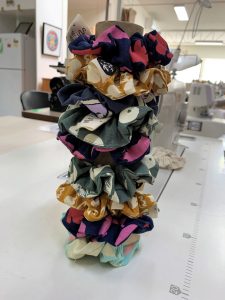 In late 2019 – Magpie Goose (a First Nations owned & run clothing company) reached out to Second Stitch to brainstorm ways we could help minimise their textile waste. Our design team and pattern-makers worked with their offcuts, mixing and matching the beautiful screen-printed designs, turning them into an eclectic accessories-line , made up of one-off pieces including bumbags, head-wraps and baby-bibs, just to name a few.
We work with other fabric distributors or upholstery makers, like Warwick Textiles, who've been a really great supporter of Second Stitch. After using their amazing textiles for their furniture collections, they can often end up with small meterage left on a roll – to which they donate to Second Stitch. These high-quality textiles can go on to make beautiful products for our shop, which cuts down our costs in terms of our production, but it also means that they're able to reduce their waste. A win-win!
We also get donations from the community. Passers by will come through the space and notice that we're a school and will often donate fabrics, trims, notions, zips, threads. Often families will donate pieces from loved-ones recently passed – knowing they'll be loved and put to good use here.
It's all worked into our vision for this space, we're trying to reduce our footprint impact in all departments of our organisation. It's really been great to see the community shifting their focus too.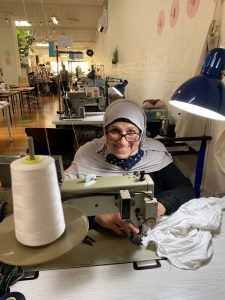 Emily (ZWV): Speaking of community, you're providing great opportunities, could you tell us more about that?
Rachel: Our space is open to all members of the community, but our program is aimed at the supporting people from diverse backgrounds, refugees and asylum seekers and those that are newly arrived or recently settled in Australia. Before CO-VID, we ran a free weekly community sewing day (Open Seam) this is temporarily on hold but we will be looking to re-launch this again very soon. It's a great way for people to meet each other and bond over a skill. It can be an opening to meet people that are like minded. We don't need to worry about language barriers as we can communicate through our love and passion for sewing.
From there, people find themselves really comfortable with our staff, and maybe want to take the next leap into studying. That's often joining in the Certificate III program, or maybe one of our other educational programs. Many of our graduated students are now employed at Second Stitch. The aims is to provide as much access to help people find further learning opportunities and meaningful employment to earn an income and a livelihood for their time here in Australia.
Emily (ZWV): What great opportunities! Is there a particular moment (or moments) that stands out for you so far? How long have you been involved with Second Stitch?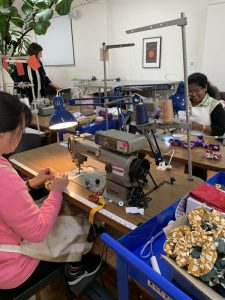 Rachel : I think one of the experiences that stands out the most would be when I taught my first Clothing and Textile session at Second Stitch. A bilingual class made up of a passionate group of women from Iraq, Iran, and Syria. I don't speak Arabic, but we had a wonderful translator. The feedback we received was "this was the best English class we have ever had!". That really, really, really will always stand out to me. Learning English can be difficult, but applying English studies to something of great interest really helps!
Emily (ZWV): Yeah, that first class. That's always special!
Rachel: Yeah, but so many, so many things!
Emily (ZWV): Absolutely! Could you share some of the challenges that you/Second Stitch have come across?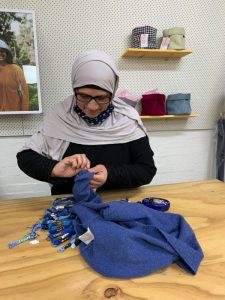 Rachel: Yes, there's always challenges. People are facing all sorts of barriers. So we just try and approach things, on a individual level, and try and support each person as they come through. Like many CO-VID has been a huge challenge for us. Lots of people aren't set up for remote learning. And so to be able to continue the course, throughout CO-VID, was really difficult. We did give it a go. We tried remote learning, but this course is really hands-on. So one of our biggest challenges was deciding to put the classes on hold. Thankfully, our studio is slowly opening back up and our students are back to completing the course.
Emily (ZWV): Yeah, absolutely. Last year is such a big challenge in so many ways. Especially something like this. It's so hands on and you have language as another layer.
Rachel: Being in the space is so important to help understand someone's circumstance. We are a really diverse community that helps each other out a lot – whether it's our supportive trainers, or seamstresses, staff, or peers – that physical connection is really important for the success of our program.
Emily (ZWV): Yeah. It really is. Regarding zero waste, are there any particular other things you'd like to highlight?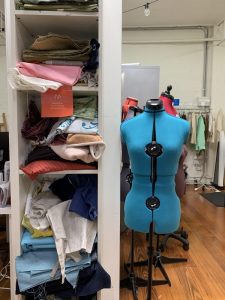 Rachel: A space like this, it's not only impacting some of our seamstresses' livelihoods, but it's also impacting the textile industry in a positive way. We are focussed on supporting the community to be mindful when it comes to their clothing and textile waste. The products in our shop highlight ways we can reduce our waste on an individual level – eg reusable vege-bags and cloth shopping bags- using mostly/ if not only upcycled fabrics where possible. Our alterations and repairs service is helping customers pro-long the life of their garments while supporting our seamstresses to help us build skills and knowledge of the textile industry. We are a textile drop off service for members of the community wanting to donate unused textiles, trims and notions. We are also really keen on letting people know that a lot of textile waste can be recycled, and that these services are growing in Australia. There are many places around the neighbourhood that you can actually take any textile waste to be recycled. Reach out to organizations like ours, neighbourhood houses, child care centres and community groups because anything that you're thinking you might throw away could actually be really valuable to others. If you've got a really awesome creative idea around recycling textile waste, just reach out because we have a big community. So if it's not the right project for us, it might be the right project for somebody else. If we're all helping each other out and passing on the word, then I think that we'll be doing great things for our community and what we're doing to reduce our waste as a whole.
Emily (ZWV): Yeah, definitely. Just looking at some of your products, you've got some cutlery pouches and items – could you talk us through some of your items?
Rachel: Absolutely. So we often get recycled textile PET filling. We ended up getting a whole bunch of that two or three years ago, thinking how are we ever going to get through this? But we are trying to develop more products. So this particular round cushion, the insert is not actually a bought insert, it's a handmade insert using our recycled PET inside, and the outers are all the textile waste from Warwick fabrics. So that's why they're always different colours, and they always tend to look a little bit different.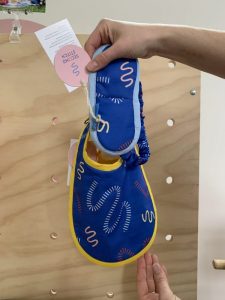 So our bibs and our eye pillows – they are designed to fit in with some of the scraps that we use. So we design that pattern to fit in with a scrap of another product. So the eye pillows, actually the small cut out from the middle of the bib, essentially fit in that when we cut it up. And so trying to figure out ways that we can be smarter in our own pattern designs to really reduce that waste.
Our storage tubs generally are made out of upcycled fabrics. We designed a series of bolsters which are filled with our textile waste which means they are little bit stiffer than just your regular pillow- they are nice and firm, it holds your body up and makes it comfortable for stretching. Sometimes they need to be refilled. So we're always happy for people to pop back in and we can re-stuff them. Our picnic rugs are patchworked because sometimes our scraps are small and so we need to patchwork the fibres together to get a large surface area.
Our veggie bags are made from curtain off cuts – so they are lightweight for when you're going through the checkout. You can put your fruit and veggie in them in the fridge and keeps everything fresh. They're one of our top sellers of all time!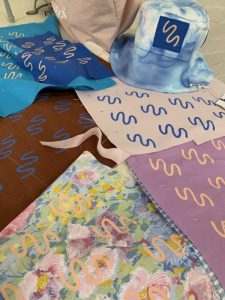 Our Jumbo Scrunchies are always great because these smaller pattern pieces which we can fit into smaller scraps. Designing smaller products can be really helpful. Often some of the best scraps are always the smallest pieces. So, our scrunchies always look amazing.
Bum bags….if we are running low on donations, we work with fabric distributors that align with our values – sourcing from ethical, sustainable and transparent factories. We buy in smaller amounts with much longer lead-times. Our most recent bum bag collection is made up of old and new textiles, so we are still able to reduce our impact but provide a quality finish.
For our masks straps, a lot of them were donated fabrics. During CO-VID, a local company contact us they had made some handkerchiefs they were used to wrap presents, and they just never got through them – so we turned them into reusable cloth masks! Our up-cycles mask collections did really well as they were mostly one-offs and very unique!
Emily (ZWV): Amazing! Our classic final question is around, what's your advice for people that you'd like to share such as tips for people on their journey on zero waste?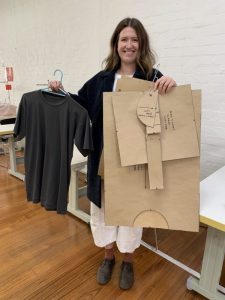 Rachel : Ask lots of questions and keep reading and researching about the latest changes in sustainability around the world. Connect with people and organisations that are making positive changes and get involved in fun projects that focus on minimising waste. Connect with your local council and use their resources to help you in your specific areas. Apply for grants…there are many ways to get involved. Don't forget to support organisation that align with your values – this doesn't have to be with just your wallet – donate your skills, apply to volunteer, spread the word. Social media is a powerful tool for connecting and keeping in touch…so give us a follow and say hello.
Emily (ZWV): Beautiful! Thank you very much for sharing.
Rachel: Thank you for dropping in!
Second Stitch is a not-for-profit social enterprise that celebrates the unique skills, traditions and stories of refugees, migrants and people seeking asylum. You can find out more, support them, get your clothes mended or altered and more at https://www.secondstitch.org.au/.