Borrow the appliances you want to try, but don't want to buy! This is the excellent kitchen appliance and gadget waste-reducing aim of kitchen libraries, which help curtail the buying of kitchen appliances that are only used a few times and are then relegated to the back of the kitchen cupboard, as well as seasonal kitchen bakeware, for example, that is only pulled out once a year
They also lend out events kits with cups, cutlery and bowls to help keep events, from kids parties to dinner parties, zero waste.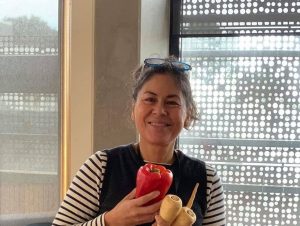 Carlton Kitchen Library, which opened in 2019, was the first kitchen library in Melbourne. We interviewed Peta Christensen, Food Systems & Community Engagement Team Leader at Cultivating Community, who is one of the kitchen library's librarians and played a role in setting up and keeping Carlton Kitchen Library running through the pandemic, about kitchen libraries, their benefits, and how to set one up in your community.
What is a kitchen library and how does one work?
A kitchen library is like any kind of library – we have a collection of kitchen equipment from cookie cutters to bread makers that our members can borrow for a few weeks at a time with the idea that you will probably only use these items occasionally therefore there's no need for everyone to own all of these things when we can access the items as needed through the library.
Where did the idea to open a kitchen library come from and why did you want to open one? What made you so passionate about opening up a kitchen library specifically?
The idea to open a kitchen library in Carlton emerged from workshops with our Carlton Food Group which was a group of local agencies and public housing tenants who met regularly to talk about food projects and food security in the community. One of the members raised the idea of a Kitchen Equipment Library, which they'd heard about happening in North America, and it was this idea that kept floating to the top as something we could get going in Carlton.
The kitchen library concept ticked a lot of boxes for our group: it would make home cooking and cooking experimentation more accessible for all, especially people on a low income, there were many people in the community who lived in apartments with limited storage space so access to a library of equipment would be an excellent community resource, it would reduce waste and excessive consumption as people wouldn't feel they had to own infrequently used kitchen equipment plus we came to realise that many people were very happy to rehome their seldom used items to the library.
What can people and a community gain from using a kitchen library and other sharing libraries?
Sharing libraries are such valuable resources for any community, as not only are people able to access a wide range of items without the burden of ownership, but these community-run initiatives provide various avenues for members to connect with their local community either through volunteering directly with the library or attending a workshop or event.
At the end of 2019, we had a wonderful pasta-making workshop, where around 30 people from all over the community came together to learn a new skill, have fun, meet neighbours, and enjoy a delicious meal together. 
What has been the favourite item in the Carlton Kitchen Library for people to borrow so far?
Surprisingly, our Mexican oil cloth tablecloths have probably been the most borrowed item, closely followed by our airfryer and pasta maker.  
Do you have a favourite borrowing story you can share with us?
There have been so many great borrowing stories, but one of my favourite stories was recently captured in an evaluation we conducted about the project. Here's a quote from one of our members:
"One of my friends had a pasta maker and informed me about the existence of the CKL. Last year, after the first COVID lockdown, CKL restored its home delivery service. Sometimes, when I returned home from my healthcare work, I found that the cooking equipment I needed was already on my doorstep. The simple fact that, despite this difficult time, there was still somebody who came from the world outside to provide me the items I needed made me feel warm and comforted.
"The CKL also enabled me to try different cooking equipment and food to 'expand my horizon'. Also, instead of rampant consumerism, I can use the CKL service to live a more sustainable life."
How can people donate to the library? Do you take anything kitchen related or are some items more favoured than others? What item would you love to have in the kitchen library that you don't have yet?
We love donations to the kitchen library, however our space is quite small so now we have to be very selective about what we accept. We did have about seven juicers at one stage, so we've given a few away and have kept the best three. We really favour items that are infrequently used like appliances or cake tins. We don't have things like toasters or everyday sized saucepans. We would love to have a grain hand mill or perhaps someone has a Thermomix gathering dust at the back of their cupboard. We're also after a Kenwood Chef Major Mixer as we have all the attachments and are just waiting for the mixer!
Do you have any advice for anyone else wanting to open something similar in their community? What did it take to get it up and running? What challenges have you faced and how have you overcome them?
It would be wonderful to see more kitchen libraries and general libraries of things popping up in all communities! We're always happy to talk to anyone who might be interested in starting up and we've actually developed a little guide to cover all the basics like insurance, membership setup, online equipment inventory and website, equipment maintenance etc. Although we had been bouncing the idea of starting the library up for a while, it really took securing a grant from the City of Melbourne to get us off the ground.
Although a project like this can be developed and managed by volunteers, it is a lot of work and a little bit of funding goes a long way. I'd also advise anyone looking to start up a library of things to see who else is out there in terms of community groups and organisations and see who you can partner with, someone else may have the perfect location for you or a whole team of willing volunteers who'd love to help out. 
The library launched zero waste kits for picnics over summer. What a great idea! What did these contain and do you have any other upcoming new initiatives or future plans for the library?
We launched the zero waste event kits in 2019 as a way to make it easy for people to host events without having to rely on single-use plastics. Our kits include food safe melamine bowls and plates, sturdy plastic cups and wine glasses, cutlery, table cloths, platters, serving utensils, cake stands and carriers, and some beautiful large recycled plastic picnic mats. We've also got an esky and large insulated drink dispenser.
In terms of new initiatives for the library, we're really focused on getting the library back up and running after all the lockdowns of the past two years. We can't wait to bring people back together to learn new food skills and gather around the table again to enjoy each other's company and show off their amazing skills using all the kitchen library's gadgets and equipment!
Finally, we always ask our interviewees to share a tip that has helped them to reduce waste or a great waste reduction tip they have come across recently…
Well, I'd have to say that joining any kind of library is an excellent waste reduction tip! Libraries of things like toy libraries, tool libraries, camping equipment libraries, and kitchen equipment libraries make all the difference to our consumption habits as we realise we can own less but still have what we need when we need it.