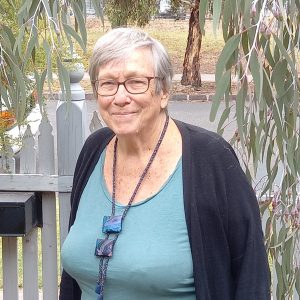 Jeanie Adams shares her story of making reusable produce bags and turning tie samples into jewellery and small practical bags, advice for saving a resource that would otherwise be wasted, her ideas for making reuse more prevalent in society and how to make cordial concentrate from fruit.
I came across you and your stall of repurposed material bags and produce bags at Bridge Darebin's Zero Waste Market. When did you start making these bags and what inspired you to do so?
I bought some Onya bags at Cotters Market in Townsville, over a decade ago, and realised how easily I could make them myself. Firstly for our own family: John does most of the shopping and he was pleased to discover how easy they were to use and how the shop staff were quite accepting. So then they were made as a Xmas gift for extended family, then I started to sell them.
I love that you took the boxes of tie samples from your neighbour's garage and turned them into something useful. How did this come about? Was there some hesitation or was there immediate excitement to make something new out of them?
Our friendly Cairns neighbour Chris knew I was a keeper and a maker, so one day he came in with a box or two of his obsolete tie samples (presumably travelling salesmen all over the world have these treasures to throw away).
I had no idea what I'd do with them but I said yes, they were so beautiful, and proceeded to remove them from their cardboard matts and wash them, then stored them for a future time.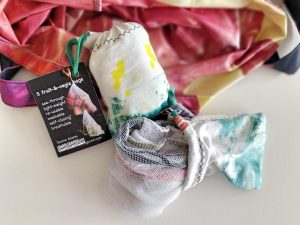 What is your advice to people who come across or see a wasted resource that could be used to create something new?
We'll of course I'd say take them home (if they're in good order), and try to keep them orderly and labelled, so when the next need arises, you think of what's in the shed or spare room before going out to buy materials. Calico bags and veggie bags are better than plastic bags for storage.
Where do you find the material to make the produce bags? What material have you found to be best to use?
I started by buying mosquito netting by the metre, then realised a better (and marginally cheaper) source was made-up mosquito house-nets, especially the box style, especially if they're on special or second-hand in an op shop. I also look out for remnants in fabric shops (for example, Rathdowne Fabrics recently).
I also had on hand several rolls of cotton tape, bought cheaply from a closing-down sale and dyed bright colours for another project. My product tester (husband) said that was the most effective closure mechanism. Most of the little storage bags are made of leftovers from hand printing and dyeing experiments.
Have you always been resourceful with things that would otherwise go to waste? What other ways have you reduced/do you reduce waste?
Yes, always and everything, learned from my parents. Nothing can go to the tip without first being assessed for potential use. And it is remarkable how almost everything I keep ends up being useful for something some day.
John has made things of salvaged and second-hand wood including tables and turned bowls that are useful and long-lasting.
How do you think reusing can be made more popular and the first thought people and society have rather than simply throwing something away?
I'd like to see a lot more skills and knowledge built into our education systems and our family lives. For example I learned early how to use a sewing machine, how to judge the make-up and quality of various fabrics, how to make jams and chutneys, how to mend things.
We also need to think independently, considering the more interesting qualities of people and things rather than chasing superficial appearance.
Where can you and your bags be found? When we last spoke you were considering setting up an Etsy page. Any markets coming up?
There may be markets, but that's not my favourite way. I'd love to find a retail outlet for them, and am happy to send them anywhere (some go to Townsville and Korumburra). Yes I do have an Etsy shop now "JeanieAdamsAustralia".
Finally, we always ask our interviewees to share a tip that has helped them to reduce waste or a great waste reduction tip they have came across recently…
If you have lots of (useless) fruit like mulberries or cherry guavas, boil them up, sieve through calico, add some sugar and store the syrup in a plastic soft-drink bottle in the freezer to use later as cordial concentrate.