Plastic Free July 2019 has come and gone-a new frontier for many of us in one way or another.  If this was your first Plastic Free July that's fantastic and welcome to the Zero Waste Victoria community!  We hope you reached your goals and if there were any lapses, remember it happens and it gets easier over time to refuse plastic- just keep trying. The experience is a great awareness raiser for businesses, industries and the community to reduce plastic use. Plastic free July also helps to raise questions about consumption, cultural practices and especially how did we mindlessly fall into so many traps of convenience?
This was my third Plastic Free July and I'm definitely improving, my goal was to be 100% plastic free and to also minimize any paper bags. It was an advanced goal and I was already most of the way there prior to July except for a few niggly spots, but the great news is my husband was more actively involved as well this year – definite win!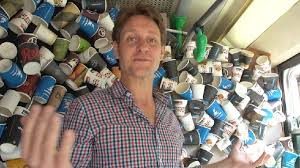 Like many of us, my first Plastic Free July goals were to refuse plastic lined disposable coffee cups and plastic water bottles. I was inspired by the War on Waste, the ABC show with Craig Reucassel, particularly when I found out that disposable coffee cups were not recyclable. It blew my mind as I considered myself to be a great recycler. I already had a reusable cup and I started trying to use it daily.  I forgot it a few times, but I was determined, so I and opted to go without a coffee or to take 15 minutes to drink it at the café. These simple changes and alternatives became more than just part of a challenge, they also allowed me to slow down and it made me question the rush of take away coffee. Sure I live in Melbourne and life can be busy, but do we always need to drink our coffee on the run? How did takeaway coffee in single-use cups become the norm?
Much of the disposable plastic that exists today can be traced to the rushed, busy lifestyles that have become a part of modern living. Marketers sell us that the new easy way to get more time is to look for convenience. Many people have long working hours and disposable incomes which have resulted in a culture of consumption that is responsible for a lot of disposable plastic products.
The longer that I practice being low to zero plastic, the more that I become aware of practices that were part of our culture not that long ago. Some were the norm when I was young, like carrying a water bottle or dining in to eat a meal. Others hark back to earlier generations like using your own containers for takeaway or at butchers and delis, milk in refillable glass bottles and repairing things if required.
There's also the simple joy of supporting small businesses and getting to know the owners and shopkeepers who have a passion for the food and products that we purchase. Bulk store shopkeepers are passionate about being low waste and plastic free. They've taken a risk by going into business to provide goods that are environmentally responsible, but most have  done it because they know and whole-heartedly believe that operating sustainably is the only way forwards. One of the more rewarding outcomes is connecting with like-minded people, as part of a growing thriving community.
The Zero Waste Victoria Facebook group and its subsidiary groups, like BYO Containers are great places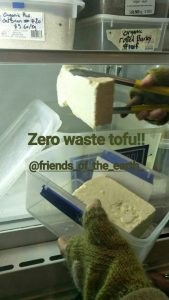 to connect with other passionate people looking to reduce the waste that comes with modern living. Together we can share stories, support each other and we can all take actions to create enormous collective change.
This month was full of encouraging ideas and tips for plastic reduction with many sharing their goals and successes. There were tips for plastic free milk, BYO containers at butchers, plastic free make up and more. The groups are great for moral support, sharing resources, and learning of successes like Tofu in BYO containers and many more plastic-free challenges that the group continues to support beyond July.
Now as we end Plastic-Free July, we are sadly challenged with the latest recycling crisis where some councils are left without recycling at all. This confirms that reducing and eliminating waste is more important than ever. Keep going on your journey and sharing with your networks, and as a community we can all reduce waste whilst enriching our lives in many wonderful ways.