PRESENTERS     ACTIONS & RESOURCES      FESTIVAL HOME
What's On
Day 1 – Saturday 6th June
1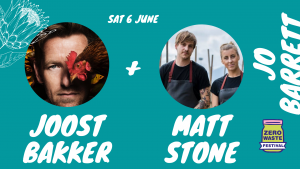 0 am – Imagine a world without waste with Joost Bakker, Matt Stone and Jo Barrett
Opening with Joost Bakker, a discipline crossing creative who has pushed the boundaries of architecture, hospitality, floristry, growing food, design and more. Joost believes that there is no such thing as waste because waste is a failure of the imagination. Joining him will be Matt Stone the Head Chef at the esteemed Oakridge in the Yarra Valley and Jo Barett, the Head Pastry Chef and Senior Sous-Chef, both having worked at Joost's zero waste restaurants. They will be presenting a hands on solution to getting local, connected and reducing your waste. You won't want to miss this as they will be announcing their exciting new innovation project that kicks off in Melbourne next month!
11.20 – Waste-Less Community Panel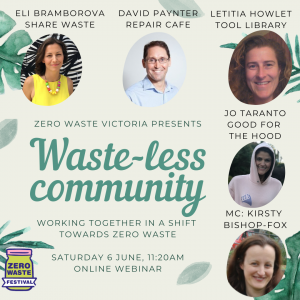 Working together in a shift towards zero waste
• Are you inspired and motivated in your personal war on waste?
• Do you want to empower others to reduce their waste too?
• Have you been frustrated that some refillables have been refused, during the pandemic crisis, and now you're ready to bring back reusables…
• Maybe you just want to get your family and friends on board to reducing waste too.
Whatever your motive for a life with less waste, join us in conversation with some local legends who are empowering community in a shift towards less waste.
12.30 – Community lunch 
Make some lunch then pop on to meet fellow zero waste community members and have a chat together! You might want to discuss some of the great things you learnt in the morning session. Our team will have a provocation question to get us started. Just click the link and join us on a virtual fireside chat.
1.00 – The Story of Plastic
The Story of Plastic takes a sweeping look at the plastic pollution crisis and the worldwide effect it has on the health of our planet. With engaging original animation, archival industry footage, and first-person accounts of the unfolding emergency, this documentary serves as a tool to foster connection, spark dialogue and create action for a world with zero-waste.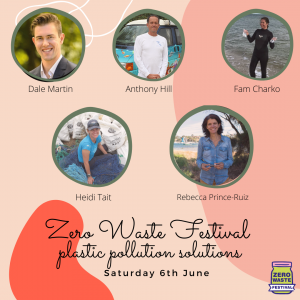 2.45 – Plastic Pollution Solutions Panel 
Screening of "The Story of Plastic" by the crew from "The Story of Stuff", followed by an expert panel empowering action and solutions against plastic pollution. Joining us will be Fam Charko (Marine biologist, EcoCentre), Heidi Tait (Tangaroa Blue Foundation), Rebecca Prinz-Ruiz (Plastic Free July/Plastic Free Foundation) and Dale Martin (Plastic Bag Free Victoria). Motivated to take action?
3.45 – AMDI Workshop 
Motivated to take action? Stay for the workshop with Heidi Tait from Tangaroa Blue Foundation as she shows us how to use the Australian Marine Debris Initiative data collection app to contribute to the national marine debris/litter database. Don't just pick up litter, find out how easy it is to contribute to the collective database so we can stop it at the source!
6.00 – The Story of Plastic – Second screening with links to recording of panel and workshop.
Day 2 – Sunday 7th June
10 am Slow Fashion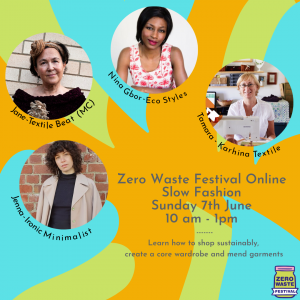 With fashion as one of the world's largest pollutants, not to mention one of the least ethical trades, "What are you wearing?" is not just a question reserved for the red carpet. Nina Gbor, Founder of Eco Styles and Clothes Swap & Style and an RMIT Sustainable Fashion Tutor will bring awareness to how and where our clothes are made; and make us think about where our clothing ends up after we've worn it – sadly, sometimes only once. Jenna Flood from Ironic Minimalist will be discussing your wardrobe and how to restyle the clothes you already own to show that eco fashion can be just as stylish as its fast fashion counterpart, while remaining socially and environmentally responsible. To add personality to the clothes you own, Tamara Russell of Karhina Designs who will be demonstrating how you can mend and revitalise clothing to try to stop them ending up in landfill. Repairing our clothes enables creativity and individuality whilst reducing impact on the environment. By mending our clothes, we create a bond with them ensuring we wear them longer.
Grab your tickets to rethink fashion.
1.30 – Community lunch
Make some lunch then pop on to meet fellow zero waste community members and have a chat together! You might want to discuss some of the great things you learnt in the morning session. Some of our slow fashion presenters will also be joining us. Just click on the link to join us for a casual chat.
2.00 –  The Arts Panel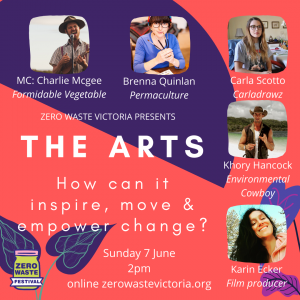 The Arts Panel brings together five individuals creating memorable art with powerful messages inspiring community connection and environmental regeneration. Learn how the arts inspire, move and empower people for change from Charlie McGee (musician of sustainable living inspired band, Formidable Vegetable), Karin Ecker (filmmaker fighting plastic pollution), Khory Hancock (environmental scientist with a media persona the 'Environmental Cowboy'), Carla Scotto and Brenna Quinlan (two illustrators using graphics to change the world).
Join our creatives in their conversation exploring how the arts inspire, move and mpower people for change.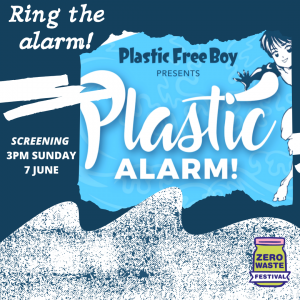 3.00 – Film: Plastic Alarm
The power of kids teaching kids with 12-year-old Arlian inspiring kids around the world and empowering them to be global citizens with solutions to plastic pollution and creating a sustainable future together. We're inviting the whole family, teachers and schools to tune into this!
3.30 – Young Changemakers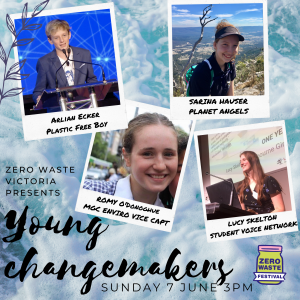 Let's unite young voices for change because age doesn't stop these changemakers. Lucy Skelton who co-founded Student Voice Network will be hosting the panel. Hear from Plastic Free Boy Arlian Ecker who has spent the last few years inspiring kids around the world about the solutions to plastic pollution and what they can do to make a difference, Sarina Hauser the founder of Planet Angels an eco business she created when she was just 14. Romy is the vice-president of the Environ Team at Melbourne Girls College which made headlines last year for being a bin-free high school, These are just three of the incredible young changemakers that will be sharing their journey and tips for other kids passionate about making a difference!
Day 3 – Saturday 13th June
9.30 – Exploring the 2R's – Recycling Panel and Q&A
Repair – Mend it Australia
Mend It, Australia is a team of two retirees. Karen and Danny Ellis are self-directed, self-funded and self-resourced volunteers. Since 2015, they have travelled to and volunteered at over 85 organised community repair events around Victoria. They are affectionately known as The Tinkering Travellers.
Their goal is to raise awareness of the value of reusing and repairing the things we own. Find out what 'The right to repair' means and why Karen and Danny actively advocate and campaign for Australia to introduce right to repair legislation.
12.00 – Reuse – Cloth Nappy Workshop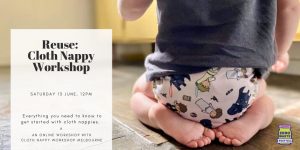 Join Elana from Cloth Nappy Workshops Melbourne to discover the world of modern cloth nappies and everything you need to know to get started with cloth nappies. Learn how to wash them, where to buy them and what to look for. She will cover washing tips, dispel myths, show the different styles of modern cloth and most importantly an opportunity to ask questions to get you confident with cloth in this online workshop! Limited spots available for this workshop so book in quickly!
1.30 – Community Lunch
2.00 –  Focus on Food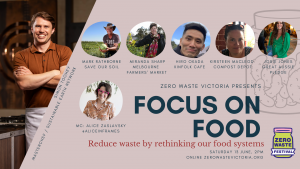 2.10 – Rethink Food Systems: A conversation between a farmer, the market and a chef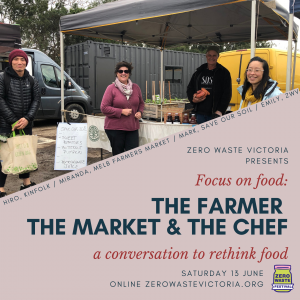 Let's rethink our food and food systems. We begin with a conversation between a regenerative farmer, a farmers market and a social enterprise chef. Facilitated by Emily Hui from Zero Waste Victoria, we'll learn about regenerative farming and the benefits of biodynamic with  Mark Rathborne, Save our Soils.  
Melbourne Farmers' Market's Miranda Sharp explores how we can connect to our growers, producers and farmers, as well as Moving Feasts, a social enterprise that creates justice, sustainability and resilience.
Hiro Okada from Kinfolk/Sibling Cafe shares his love of cooking and the potential of all the 'ugly' and often wasted food including 'seconds' donated through farmers like Mark.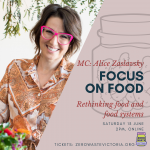 MC: Alice Zaskavsky, Phenomenom – Before making her on-screen debut on MasterChef Australia in 2012, Alice was the youngest dep. head of department at an elite Melbourne school, going on the program to drum up interest in a 'Food & Culture' elective. She has since made the living-room her classroom, hosting kids' food and lifestyle programs Crunch Time and Kitchen Whiz on Nine's Go! Channel and Short Cuts to Glory (for slightly bigger kids) on ABC, where she's also the resident Culinary Correspondent on ABC News Breakfast. On the airwaves, Alice co-hosts a regular VEG SEG on ABC Radio Drive, where listeners call in to share their favourite recipes and anecdotes about seasonal vegetables, and is a regular contributor to ABC Radio National. As Food Editor for The Weekly Review, her Feed was a weekly fixture in 630,000 homes across Melbourne. Her best-selling kids' book, Alice's Food A-Z was the first cookbook to be given a Notable gong by the Children's Book Council of Australia, and her next, for Millennials is due out in November, 2020. Alice has put all of her experience and talents to full use in founding Edible Adventures Productions, putting critical food literacy back on the agenda in schools. Her team's pilot project, Phenomenom, a free digital food literacy program for primary schools funded by industry and government, helps redirect the conversation around kids and vegetables, through clever content and creative execution. Whilst Nomcast, the complementary podcast for families, is quickly becoming a weekly staple on the school commute. When not writing about herself in third person, Alice is most at home tapping out thoughts and sharing audaciously accessible recipes across the Social Media Sphere as @aliceinframes
2.45 – pReserving and pickling with Simon Toohey of Masterchef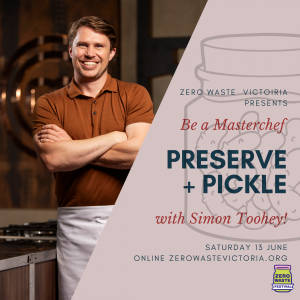 Preserving and Pickling with Simon Toohey from Masterchef and Sustainable Earth Network. You'll recognise this big smile from seasons 11 and 12 of Masterchef, we're obsessed with how Simon elevates humble veggies into the hero of the dish, often celebrating parts of veg often considered offcuts. You can trust the man who turned the liquid from a can of chickpeas into faux chicken-skin. Join Simon talking all-things pickling, a delicious, nutrient dense way to save food from waste. There'll be some time for a Q&A with Simon too!
3.45 – Rot: Composting – start to finish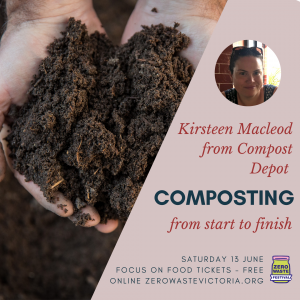 Why is composting such a hot topic and how do you create one – from start to finish? Find out all the steps, materials needed, tools required, what can and can't go into a backyard compost set up and how to tell when it is ready to use on the garden. All this and more from compost queen Kirsteen Macleod from Compost Depot. We finish our food focus here because you've now put the nutrients back into the soil to grow more food!
4.30 – Reduce: The Great Aussie pledge: Empowering communities to take action on waste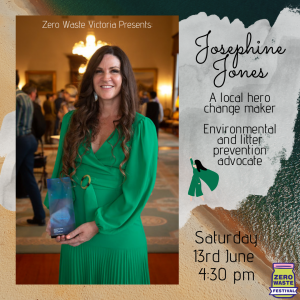 Wrapping up our day will be Australian Citizen of the Year, Josie Jones from Mornington Peninsula. She will be delving into behaviour change and sharing the Great Aussie pledge, where we walk away with a pledge on one action on reducing waste.
Grab your ticket to this powerful afternoon focusing on rethinking food and food systems.
Day 4 – Sunday 14th June
9.30 – First Nations + Community Stories on Zero Waste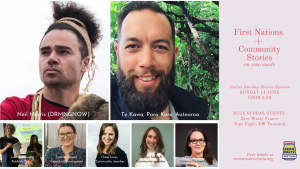 We're all connected – we're all doing our bit, wherever we are, whoever we are. We are a global community united for the planet and a regenerative future. We'll hear from Neil Morris, a Yorta Yorata/Dja Dja Wurrung man, community empowerment and rights advocate and artist (DRMNGNOW).
10.00 – Our Neighbours in Aotearoa/NZ 
Māori Stories – Te Kawa Robb, Para Kore
Para Kore means Zero Waste. Humans are the only species on the planet that don't live by zero waste principles. The natural world does not create waste. Everything at the end of its life, whether it's a plant or animal, becomes part of another system. A dead insect becomes kai for another insect, a tree that falls in the bush rots and provides nutrients to the earth for new growth. Everything in nature is part of a closed, continuous, endless cycle. The Para Kore programme works with marae to increase the reuse, recycling and composting of materials thereby helping to reduce the extraction of natural resources and raw materials from Papatūānuku.
10.30 – The Rubbish Trip Story – Hannah and Liam
The Rubbish Trip is a fulltime, New Zealand-wide roadshow on zero waste living.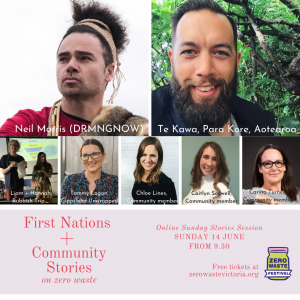 They deliver presentations and develop resources to support individuals to reduce their household waste, based on their own research and experience, having lived without a rubbish bin since 2015. Since July 2017 they have delivered over 400 presentations to over 20,000 people in every region, city and almost every district of New Zealand, in collaboration with councils, community groups, businesses and NGOs.
Takeaway Throwaways is a campaign calling on the New Zealand Government to ban single-use disposable food and drink serviceware containing plastic (including degradable, biodegradable or compostable plastic), and mandate co-designed, accessible, reusable alternatives instead. Rubbish Trip also provide practical resources for how hospitality, large and small events, festivals, markets and more can phase out their reliance on single-use serviceware with reusable systems and schemes.
11.00 – Community Stories
11.25 – Our Local Community Stories
Hear from our local Zero Waste Victoria community members and what they're doing to create change. Chloe Lines from the Zero Waste Festival team will facilitate a conversation with two our our 'proud and paid up' Zero Waste Victoria Members – Caityln Sowell and Carina Turner. These two incredible women not only signed up to be regular donors to Zero Waste Victoria's work but are wonderful community members too. They show that zero waste is a journey, not a destination. Less pinterest, less perfectionism, more authenticity and more action!
11.30 – Community Reflection and Learnings
Tammy Logan from Gippsland Unwrapped shares "How getting to know my place has helped me reduce waste in new ways". She shares how staying at home has opened her eyes to what was around her and how she could make use of resources she already had to reduce her consumption, ecological footprint and waste.
Zero Waste is a growing global movement – we check in with our fellow global citizens making a difference in Europe and in Africa!
Zero Waste France
Created in 1997, under the name of Cniid, Zero Waste France is a citizen and independent association, which works with all audiences: citizens, elected officials, professionals, companies, and has three missions to contribute to it – role as whistleblower, tackle the source of the problem and is mainly funded by donations from citizens, which allows it to remain independent. Hear from Laura Châtel, advocacy officer of Zero Waste France, about what they're up to next!
Nipe Fagio, Tanzania
Nipe Fagio ("give me the broom" in Swahili) is a civil society organisation founded in 2013. They aim to empower individuals, especially the youth, the civil society, the private sector and government to build lasting change towards turning Tanzania into a clean and sustainable country, conscious through education of its role on waste management and reduction of pollution (air, water, soil). Ana Le Rocha from Nipa Fagio will share about their latest projects in Tanzania.
12.00 – Coffee body scrub and lip scrub with Shane Gunston
Get creating with some fun DIY projects at home with simple ingredients you have at home. Zero Waste Vic's Shane will be showing you how to create a great coffee scrub created from leftover coffee grounds and lip scrub that will make your skin winter ready. We'll send you an ingredients list so you can make it with them on the day.
12.30 – Waste-free deodorant with Mademoiselle Organic
Lily's workshop will show you that you don't have to settle for what's on the supermarket shelf, make your own deodorant at home from ingredients found in your kitchen that won't harm you or the earth.
Make your own waste-free deodorant using ingredients from your kitchen! You'll need a clean empty jar, baking soda, coconut oil, corn starch and optional some essential oils. We'll also cover the purpose of each ingredient and how to customise the recipe to your needs.
1.15 – Community Lunch
1.30 – Zero waste: flattening the curve of growth economics with Meg and Patrick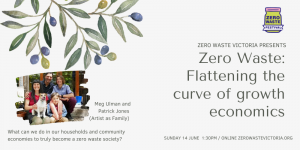 What can we do in our households and community economies to truly become a zero waste society? Meg Ulman and Patrick Jones (Artist as Family) discuss all the things they do in their every day to divest from consumer culture and grow their ecological economy of place.
2.45 – Design Thinking for Action with My Work Life Design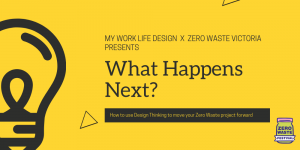 This workshop will step you through how to use Design Thinking to unleash your Zero Waste project for maximum impact!
With so much incredible inspiration you'll have over the two festival weekends, we can imagine you are buzzing with motivation and ideas on how to tackle an environmental challenge that resonates with you. Whether you want to run a community project, start a social enterprise or get the word out about the issues you're passionate about, this session will help you to get moving. Design Thinking (aka human-centered design) provides a framework that will enable you to develop a truly innovative, well-considered initiative whilst minimising risk. So let's get started!
3.30 – Community collective genius – collaborate – network with Amy Wilkinson
4.00 – Beyond the hacks – principles for waste-free living with Oberon and Laruen Carter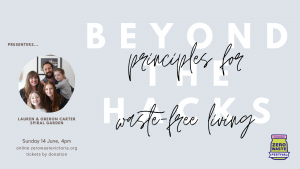 Waste-free living can be made easier and more accessible by looking beyond the hacks and tips, towards a set of principles that apply to daily life. Oberon and Lauren from Spiral Garden will show you how they've applied waste-free principles to their family's life in suburban Tasmania.
Keep connected on:
You can view our past festivals
Zero Waste Festival 2018
Zero Waste Festival 2019