With any event, avoiding waste is all in the planning. If you look at an event by design and consider the options before jumping in, you can reduce an incredible amount of waste.
Zero Waste Victoria recently organised a Clothes Swap Party in collaboration with Clothes Swap & Style, Central Ringwood Community Centre and Maroondah Council. We aimed to eliminate waste at its source, choosing food that came with little to no packaging, going without unnecessary items like balloons and plastic cutlery, and selecting materials with their best end use in mind (i.e. materials that could be reused, recycled or composted).
Taking a bit of time to consider all aspects of the event and how we could reduce waste helped to keep waste to a minimum. We hope our efforts might inspire you to run your own low waste event, and show you that this is achievable.
Repurposed bread tags were used as tokens instead of single-use raffle tickets. The bread tags are being collected for recycling as part of the Aussie Bread Tags for Wheelchairs program.
The volunteers wore lanyards which were reused. The printouts inside them were composted.
Decorations
The Zero Waste Victoria banners were created with fabric offcuts sourced from charity shops, waste material and a piece of green fabric, purchased to match our logo colour. (If anyone comes across scrap material in this shade of green, we'd love you to send it our way, as we may need to make more banners in the future.)
Fabric bunting which can be reused for many different events, was used to decorate the entrance.
Chalkboard signs were used to label food and can be cleaned and reused again.
The signs for the Clothes Swap and the Alteration Station were made by Made Personal Events. Lettering can be peeled off so that the board and easel can be used again.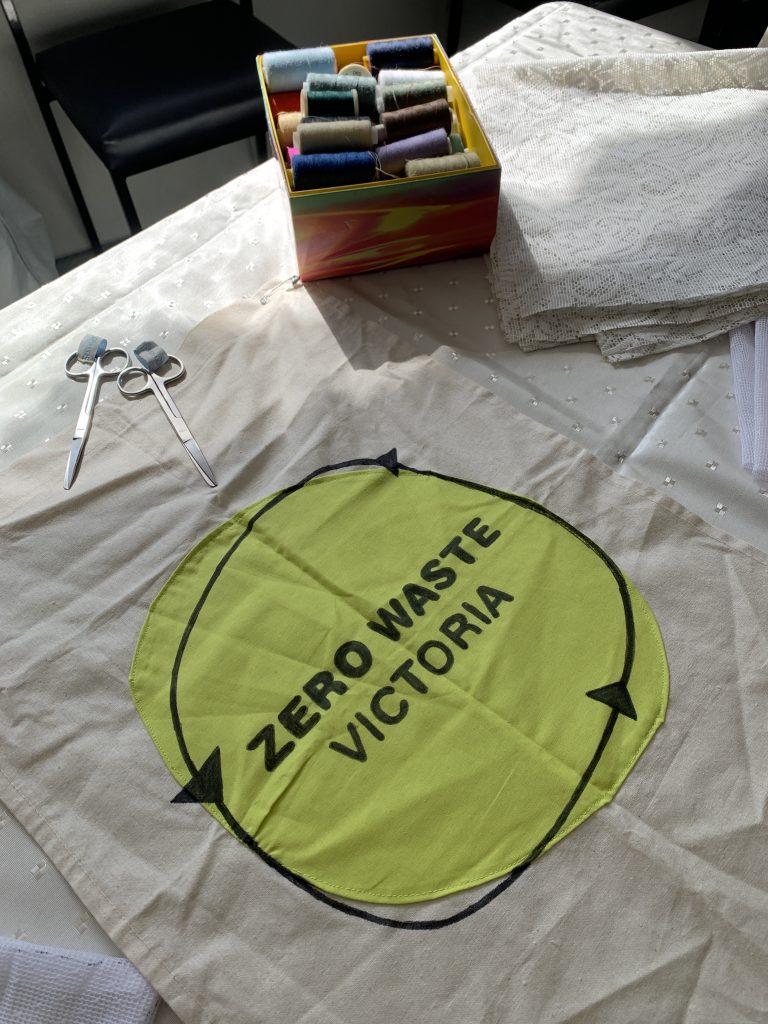 Refreshments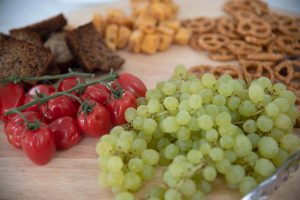 Crackers often come in a lot of packaging, and while I often make them, it wasn't practical for this event. So instead we went for an alternative and got both pretzels and rice cracker mix from The Full Pantry.
Nuts, chocolate and slices also came from the Full Pantry and were packed into containers to avoid plastic waste.
Figs and tomatoes were bought loose, in a tray. Apparently they were seconds, but they tasted delicious; there was nothing second quality about their flavour.
Cucumbers, carrots, celery and grapes were all bought loose without any plastic. Find out more about Zero Waste Victoria's campaign Reuse instead: Take the Low Waste Pledge.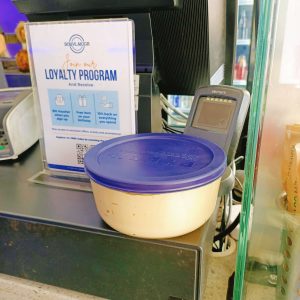 Dip was a last minute decision; we decided that if we could get it without single-use plastic then we would. I went into a Souvlaki store and asked if they could fill my container with hummus. They were initially resistant because the plastic container is how they measure the dip quantity. But we worked out that exactly 2 serves would fit into my container. I'm sure that was the first time they've served dip in a container this way.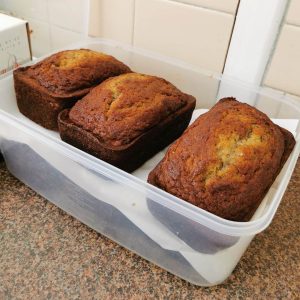 Berries are difficult to source without single-use plastic waste but I reached out to Sennsational Berries, a blueberry farm in Yarra Valley who sell at farmers markets, and allow you to fill your own container. They had an excess of berries so we sent volunteers to pick them. The berries would have otherwise gone to waste.
Banana cake came from Burnt Bridge Bakehouse and was made with bananas that were past their eating best which makes them perfect for banana bread. I also took in a container to avoid single-use waste.
All food was served on platters and dishes brought from home. Glass drink dispensers were filled with water flavoured with lemon and mint from the garden.
Crockery was provided by the venue, Central Ringwood Community Centre from their Wash Against Waste kit. This is a set of crockery and cutlery which you can hire to avoid single-use waste at events. The kit caters for up to 100 people.
Food scraps and napkins were composted on-site in the community composting bays.
Clothes
Leftover clothes are being kept for the Sustainability Fair being held at the centre in a couple of weeks, on the 19th March.
Any excess will be taken to First Impressions, made available at future swaps, or given to community members in need. If you have a connection to an organisation who would benefit from surplus clothing, please get in touch.
There were some clothes in poor condition which will be used in upcycling projects.