What an event our Zero Waste Festival was!
A very big thank you must go to all of our volunteers who made this possible, our event manager Janette Connolly who came on board and did whatever it was that had to be done to support the Zero Waste Festival, City of Port Phillip for supporting the event with the Local Festivals Fund, our exhibitors and very importantly all of our speakers and workshop hosts as well and the St Kilda Repair Café who did such an amazing job.
We planned to have some exhibitors, food vendors and repair café outside to maximise a beautiful spring day, but the weather had other plans so we made the call to bring it all inside and it worked really well.
The day kicked off with our panel discussion "What is the formula for a Zero Waste City?". A big thanks to Lauren and Oberon Carter, authors of A Family Guide to Waste-Free Living; Bianca Cottle, founder of BYO Containers, popularising the practice of 'Bring Your Own Containers'; David Holmgren, co-originator of permaculture, author of a number of books, most recently, RetroSuburbia: The Downshifter Guide to a Resilient Future; Veronica Shannon, founder of Retub, who provide reusable takeaway containers; Nina Taylor MP for your participation in this event.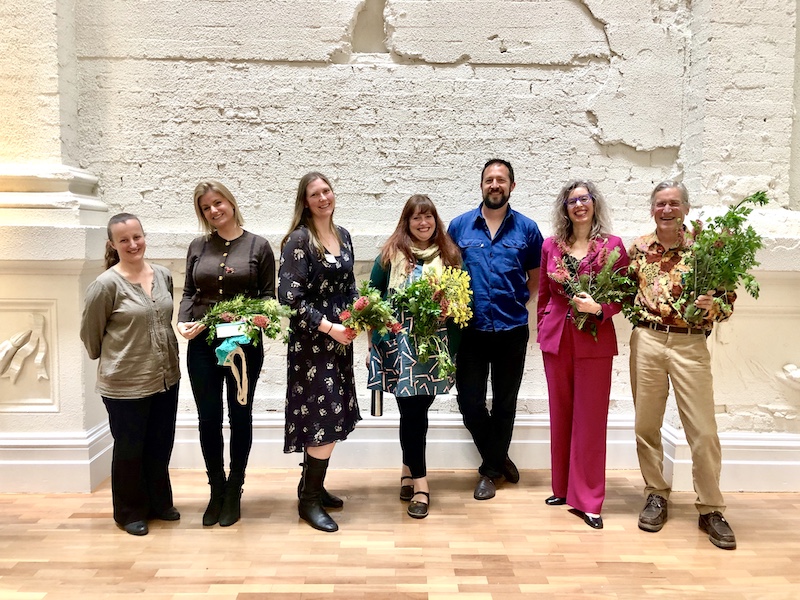 When the stalls opened there were so many people about that we could hardly move – the only downside to having it all inside, but it was totally abuzz at that time.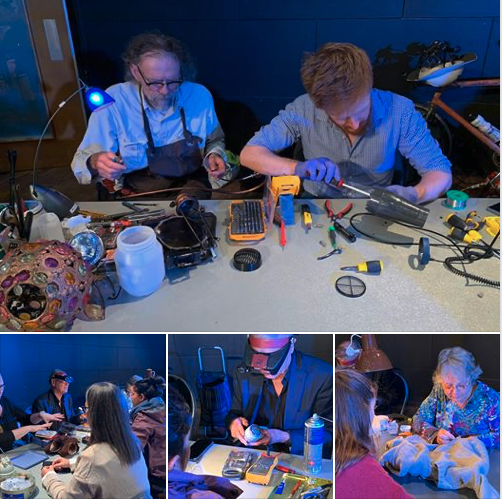 The most unknown element about the festival event was how many people were going to bring items for repair, we knew a keen team of volunteer repairers were on hand and we hoped they were going to be able to show what is possible. Well they certainly did, with over 50 items repaired which is a record for them in one day. Well done to John and the team who so passionately repaired. The St Kilda Repair Cafe operates at the EcoCentre on the 2nd of each month March to December and have saved nearly 900kg of items to landfill. Find your local Repair Cafe.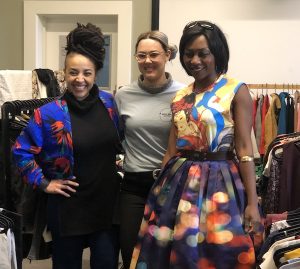 The clothes swap, wow! We had 70 swappers who were keen to refresh their wardrobes. Nina Gbor of Eco Styles and Ana Fernanda Covarrubias of Second Runway showed how to transform a wedding dress to wear at many occasions. Wedding dresses are designed for single-use which is crazy when they can be so versatile. Then the swap began and people walked away with new-to-them wardrobe pieces.
We have more swaps coming up in February, and you can follow The Clothing Exchange who facilitated the clothes swap for info on their upcoming swaps.
The workshop presentations were highly informative encouraging discussion and even debate with a lot of audience participation, making them very enriching experiences. Highlights included learning of packaging innovations in Ellen Burns' workshop about using home compostable packaging for her energy bars and crackers. They are the first of it's product type in Australia. The Eco Centre held a trivia and e-waste bingo to give an understanding on the ban of e-waste to landfill in Victoria. Audrey Carter and her father, Oberon Carter, inspired a large crowd of zero wasters on their amazing journey and how their family of five live a zero waste lifestyle – noting the many challenges along the way. Melbourne Girls College also inspired with their story of adopting zero waste practices at their school. There was debate and awareness raising for Waste to Energy, a hot topic on alternate thermal technologies such as incineration and gasification, versus more sustainable alternatives such as anaerobic technologies. Carina Turner touched hearts with the deep and meaningful ways that we can show love without buying gifts reminding us all of the power of connection over consumption.
With hands on workshops where you could give it or go or physically touch in the main area with Cloth Nappy Workshops Melbourne, Visible Mending by karhina.com, Machine Sewing Basics by Rhiannon Irving, and Wendy aka Nana Maud showed us how to make a dog bed from an old jumper, a reusable bag from a t-shirt and how to crochet reusable dishcloths.
We had an appearance from Karin the plastic runner who was keen to take a group plogging, but alas the rain did not allow it. Hopefully we can do this another time. It was great to hear her talk on plogging instead.
We launched our membership program at the festival and received some wonderful feedback.
You can find out more here:
ZERO WASTE VICTORIA MEMBERSHIP
There were two art installations in the hall which were a great talking point, and selfie point, about the problem with plastic. Thank you to the crew behind the Plastisphere Installation for their provocative art piece.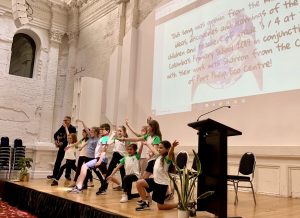 Our audience were also treated to a song by the Climate Change Choir from St Columba's Primary School whom entertained us with a special song about stopping pollution and looking after our bay.
We finished the day with Belinda Mahoney, who sang a few songs to close off our festival, what a powerful voice she has!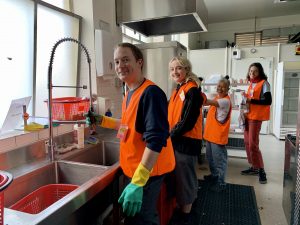 Our volunteer team helped keep everything in check, with a great effort from our Wash Against Waste Crew who helped us to avoid waste by washing reusable plates, cups and cutlery throughout the day.
As for waste, there was a surprise that's for sure, when we looked at the compost scraps to discover a box with a plastic window from someones takeaway chicken. What can you do when someone else brings their unwanted waste? Not much more than manage it yourself, and hope they were inspired at the festival to avoid that type of waste in future.
As for the waste from festival operations we are please to say the waste was very minimal. We believe in transparency so will tell you what remained
Printouts of the exhibitor floor plan, which have been recycled.
Cleaning cloths from food vendors – next time we will discuss washable cleaning cloths and will provide if necessary

Some food packaging that we discovered in the kitchen, which we believe was left behind from the day

There were some paper towels in the washrooms – this isn't something we took into account, as it was done by the venue. However next time we'll put this on the planning list for consideration

We take note and keep striving for totally zero. Slip up's happen and zero waste isn't about those who are doing it perfectly, it's about consciously avoiding and reducing waste. We think we achieved that and have inspired over thousand people to continue doing the same.
Despite the weather we still had record crowds, with over 1000 people attending, which is over double the amount who attended last year. So in terms of waste created, while we know we can do better, we still think that's an awesome effort and if everyone created this minimal amount of waste, we will no longer have a waste crisis.
If you want to support Zero Waste Victoria to achieve greater traction with getting the Zero Waste message our there you can help us by taking up a membership.