Hasn't life taken a twist! In the blink of an eye our world has changed, which has created some uncertainty for sure. But rest assured we'll get through this, and while some have been challenged with their zero waste efforts, others have risen to the challenge and are looking creatively at how they can reduce waste in ways they haven't thought of before.
There have been posts in the ZWV facebook group over the last few weeks with concerns that some venues weren't accepting keep cups, and a venue that I dine in at, emailed stating they will plastic wrap the cutlery and have single-menus. I intended to write an email, but before I had the chance it was announced that cafés and restaurants could no longer dine-in, it is take away only! Let's not pretend, this has been a shock for everyone in so many ways.
It's fair to say we are in an unprecedented situation, this has happened very quickly, and due to mixed information, from not only media, but also different levels of government, it is hard for any business owner to know what the right thing to do is. But this doesn't mean that that a low waste lifestyle is over, it's just a hurdle we have to work through during this unsettled time. We'll get through this and there are still many things you can do, as an individual, to reduce your waste.
The good news is there is currently no evidence that food is a source or route of transmission of the virus. There is also currently no evidence to suggest there is any benefit in switching to disposables. Normal washing of dishes in hot water (or better still, a dishwasher) using detergent is likely to completely inactivate any coronavirus present. The most effective measures you can take are practicing good hand hygiene and cleaning, with particular focus on shared frequently touched surfaces. Please refer to Department of Health and Human Services for more information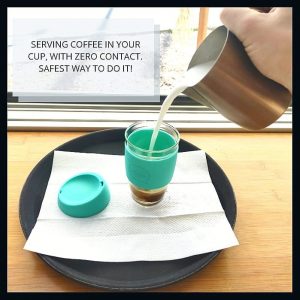 That said many businesses are opting not to accept reusable cups and containers, during this time. It is tough for all of us and business owners have many changes to manage, in this unsettled time. On top of managing numbers of customers in the shop with social distancing regulations to be followed, they are trying to work through this and keep sane, just like the rest of us. But there are many ways you can reduce waste, and some businesses are still taking a sensible approach to supporting reusables well.
The Full Pantry in Croydon are still accepting reusable coffee cups, and they have devised a system which is effectively safer than disposables because you are the only person touching the cup.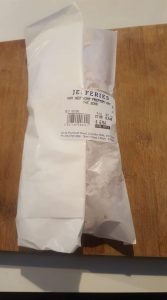 I was challenged at the butchers and deli, who have faithfully filled my containers for many years, but we found a compromise when I asked them to only wrap in paper. A deli put ham into a paper bag me, while not zero waste, but its plastic bag free and the paper has been added to the compost.
But fruit and vege seems to be as normal, which is great!
The challenge for those trying to live a low waste lifestyle, but who also want to support local food businesses, is that many have chosen not to accept reusable cups or containers during this time. You may have to accept this or just cook yourself. But if you'd like to support your local businesses, opt for those who have recyclable packaging. This may depend on your local council, as some take pizza boxes and others don't. But if in doubt, ask the questions or have a look here. You could also look up resuable options with Returnr or Reusable nation.
While compromises are being made, have a look and you might notice that waste is being avoided in other ways such as less petrol – have you noticed there is less traffic on the roads? Shopping Centers are virtually closed and stats indicate that online shopping is down. Toilet paper has made headlines, in ways like many before, but our our zero waste group has quickly discovered there are alternate options, such as reusable wipes and they are even asking what to name them.
However you are approaching this, right now, all you can do is your best. We are in this together, and we'll get through it. Look at the waste you can avoid and focus on that. It's not an ideal situation, but there are still many ways we can all reduce waste.