On the outskirts of Melbourne's West stands Australian Paper Recovery (APR), a large complex of warehouses each sorting and processing domestic recycling materials for councils in the West, namely Hobsons Bay. As a resident of Hobsons Bay, I was filled with curiosity at the way in which recycling in my home recycling bin is sorted and processed, as are many in the Zero Waste community across Victoria.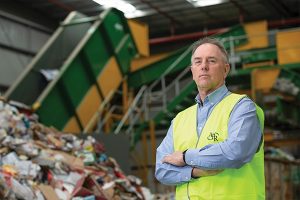 One winter's afternoon in June we visited APR, a Material Recovery Facility (MRF) at the invitation of Darren Thorpe, owner and proprietor. Being interested and passionate about all things waste, it was an invitation we couldn't resist.
APR is one of the major MRF's which sort and process co-mingled recyclables for metro Melbourne, alongside the other MRF's, Visy, Cleanaway and Polytrade. The infamous SKM was also a MRF, prior to their demise during the recycling crisis.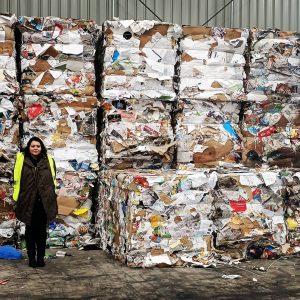 The role of a MRF is not to recycle materials but to sort our home recycling bins, ready for recycling. The materials are baled, so they can be transported to buyers that will use these materials to manufacture products. An example is an industrial process to extract silicon from glass to use in road base. Darren explains that all paper and cardboard at APR is recycled into egg cartons, "there isn't an egg carton in Australia that isn't made from 100% recycled paper and cardboard unless it's the plastic type" which is gratifying to know.
Darren has over 30 years' experience in the recycling industry and has worked at other recycling companies, prior to starting APR. As the name attests, paper and cardboard are the main sources of material recovery for the company. Darren explains there are a number of paper mills in Victoria that are the centre of the paper and cardboard manufacturing industry in Australia and continue to be major buyers of paper and cardboard for recycling. APR also sorts and processes, specific hard plastics, aluminium and steel from the home recycling bin along with recyclable commercial materials in other facilities located in the South East of Melbourne.
Darren clarifies some of the issues of the recycling crisis; glass contamination greatly reduced the value of Australian recyclable materials due to being co-mingled. Now with the State Government policy legislating for a four bin system, glass plus food and garden waste will be separated by residents. This is now being rolled out in by councils across Victoria including Hobsons Bay, Port Phillip, and Yarra City Councils. And the list is growing.
Darren demonstrates by running his hand against one of the gigantic sorted recyclable bales in the sorting shed, "I would not have been able to do that prior to separating glass, as my hand could be cut. Fragments of glass infiltrate the recyclable materials and are difficult to separate, spoiling the cleanliness of the recyclable materials". Alex Fraser glass recycling company processes the separated glass from Hobsons Bay. Darren says, "the value of recyclable materials has already begun to rise due to glass being separated from other recyclables".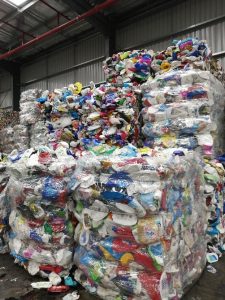 I wonder about the other materials, as I am aware there is a value hierarchy within recyclable materials. Darren explains "we are only set up to sort specific plastics for which we have buyers, and this helps to manage some of the wish-cycling". Wish-cycling is when materials are added to the home recycling bin that a person 'wishes' could be recycled or are close in composition to the materials that can be recycled. Hard and soft plastic are major sources of wish-cycling followed by disposable plastic like plastic lined coffee cups and tetra packs. APR sorts hard plastics numbered 1, 2, 5 which form the plastic used in hair care and cleaning bottles, drink bottles, take away containers and milk bottles. Darren explains that he is working with Australian manufacturers to encourage using recyclable plastic materials in their packaging, such as in plastic milk bottles. Other MRF's may sort and recover additional types of plastic depending on the buyers they have sourced. This is one reason for the variance of plastic numbers that are accepted for recycling by different councils.
Hard plastic sorted by APR is sent to buyers that will turn it into pellets to be used in manufacturing other plastic products or packaging. Darren explains these plastics are quite valuable when clean. Aluminium is also very valuable and always has been easily recyclable, in Australia and internationally. Steel found in household products (e.g. food tins) are a less valuable recyclable materials as it is expensive for buyers to extract the virgin material.
At present, COVID-19 has seen a rise of contamination beyond the usual wish-cycling with the home recycling bin being treated as a second landfill bin. Darren informs us that "over 50% of the recyclable materials at the moment are contaminated by other non-recyclable materials rather than the usual 30%" in Hobsons bay. This is likely due to the lack of recycling education that was planned to accompany the four bins roll out this year as well as reducing landfill bin collection to fortnightly. It is also suspected to be due to people using this time to consume more take away and disposable materials than normal, or cleaning out their homes. Darren points to a large pile of materials next to a giant skip, "that's all non-recyclable materials or highly contaminated materials that now have to be disposed of in landfill".
We agree with Darren, that sending potentially recyclable materials to landfill must be avoided. It threatens the viability of the Australian recycling industry that is trying to regenerate and increase the availability of Australian recycled products as part of a true local circular economy.
I ask Darren what can be done going forward to limit the contamination and make the four bin system successful? "There has to be education for residents to understand the recycling process. What actually gets recycled begins with people recycling properly in their home recycling bin. People seeing facilities like this, will help them to understand they need to reduce their waste and that there is no bin fairy". On that point we agree that the more refusal, reduction, reuse, repair and rot that can occur the more invigorated that recycling in Victoria and Australia can become.
Please contact carolina@zerowastevictoria.org.au If you are interested in a tour at APR (pending COVID restrictions) or if you have any recycling questions.