Zero Waste Festival 2022
Progress your zero waste journey and get inspired to reduce waste
We're excited to be reconnecting with you in person, to inspire and be part of your zero waste journey at Fed Square on 17 September from 10am to 7pm to provide insights and inspiration to help you rethink waste.
Join leading waste and sustainability experts, along with everyday people doing amazing things in a series of live panel discussions. The talks and activities will explore a range of topics, ideas, and solutions for reducing all forms of waste. You'll be treated to zero-waste displays, markets, food trucks, and more at this free, family-friendly event.
Bring along your unwanted clothes for a Clothes Swap, for both adults and kids, and the Repair Café will be on hand to fix your broken items. The Mending Circle will teach you how to 'Stitch it, Don't Ditch it' and activities such as Trash Puppets will inspire the kids to get creative with recycled and reused materials.
Book in to register your interest and be kept informed about the Zero Waste Festival
Program overview
10:00 am – Festival Opening and Mrs. Ticklebottom and the Plastic Problem (Children's waste wise show)
11:00 am – How everyday people became legendary Waste Warriors
12:00 pm – The secret life of food waste
1:00 pm – The sharing economy
2:00 pm – Low waste living
3:00 pm – Sustainable fashion – is it possible?
4:00 pm – Guided Meditation
4.30 pm – Going Circular – Melbourne premiere film screening
ZERO WASTE FESTIVAL ACTIVITIES

9:00am – 11:00am – Mini Spring Clean the City
Get involved in this Mini Spring Clean the City with community clean up group Beach Patrol to collect litter along the Yarra River.
Join the team as they pick up litter, sort, and document what is found for their app Litter Stopper. Learn first hand how the data collected during litter clean ups supports advocacy organisations that influence government policy and local initiatives for community education to help reduce litter at the source.
Clothes swap
If you would like to participate, purchase a clothes swap ticket and bring up to 10 items of shoes or clothes to swap and refresh your wardrobe. There will be a sustainable fashion styling presentation at the start of the adults clothes swap by Jewelz Green.
10:00am Check in opens
11:30 am Childrens clothes swap begins
1:00 pm Adults clothes swap
$5 for the Kids Swap and $10 for the Adult Swap for a max of 10 items or book as a family for $20 and 30 items.
Please note: only items which are of good quality with a long potential lifespan can be accepted
You can book in here
Trash Puppets – 10 am – 4 pm
On a mission to save the world…. one puppet at a time.
Trash Puppets empowers people of all ages to get creative using recycled and reused materials. Our playful puppetry workshops are a hands-on, technology-free way for children and families to get creative together. Get messy with our Trash Puppet Leaders and learn how to make your very own Trash Puppet.
Repair café
Have something that needs repair? Something electrical, children's toys, clothing and more. Come along to have the great people from St Kilda Repair Café repair your item.
Mending Circle – 'Stitch it, Don't Ditch it'
Come along to our mending circle and learn how easy mending is to do yourself. We will have menders repairing their own items who are also happy to discuss mending with you and, if you bring items, to help show how to mend them.
Fed Square's hidden secrets tour
10.30am-11.30am & 11:45am-12:45pm | Flinders Street entrance to the Atrium
Go on an intimate behind-the-scenes tour of Fed Square, unearthing hidden locations not normally accessible to the public.
Explore hidden corridors and engineering miracles including the subterranean maze of concrete tunnels known as the labyrinth. You'll learn about the history and construction of the site and have a rare inside look at the state-of-the-art design and use of green technologies.
Tickets for the tour only can be booked at: Hidden Secrets Tours

The Zero Waste Festival's create no waste policy encourages you to bring along refillable water bottles, reusable coffee cups, and containers and cutlery for food. Food vendors will also offer food on reusable plates washed by Green My Plate, to avoid single-use waste.
Entry to the Festival is free. Donations will support Zero Waste Victoria's endeavours to amplify the community voice and connect people, inspiring and enabling them to reach their zero waste goal
Follow us on Facebook and Instagram to stay up to date with the latest updates!
Mending Circle – Stitch It Don't Ditch It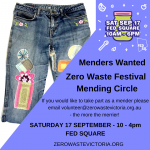 This year we will be holding a Mending Circle showing how mending items is a great activity to undertake. The theme will be 'Stitch It, Don't Ditch It' following the success of events around the globe.
We will have menders repairing their own items who are also happy to discuss mending with attendees and, if you bring items, to help show how to mend them.
We aim to show people how easy mending is to do yourself rather than just mending things for you. So come along to our circle and to sit down and join in for either a chat or mend. If you would like to volunteer as a mender (no expertise required!) please get in touch. The more the merrier!!
Sponsors and special thanks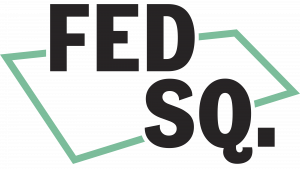 The Zero Waste Festival 2022 is brought to you by Zero Waste Victoria and event partner FedSquare. Supporting sponsors are Burwood Brickworks, Stonnington Council Waste Education Team, and Ecyo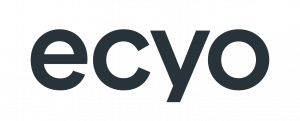 Keep connected on: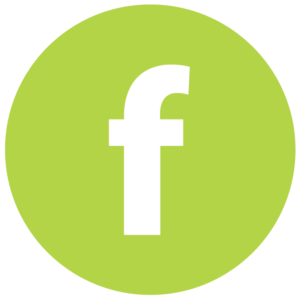 You can view our past festivals