Presenters by day
Saturday 6 June
10.00 –  Imagine a world without waste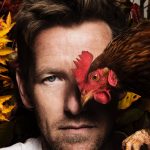 Joost Bakker a discipline crossing creative, 'poster boy of zero waste living' (aptly named by The New York Times), innovator and entrepreneur whose mission is to show us how to "imagine a world without waste" with real life researched solutions. He has pushed the boundaries of architecture, hospitality, floristry, growing food and design through his zero waste restaurants Silo and later Brothl (nutritious bone broth from A+ grade bones from top restaurants such as Rockpool) to lining Hosier Lane with free tulips that were destined for compost to highlight the waste in the floristry industry. He sees the potential and believes there is no such thing as waste because waste is a failure of the imagination.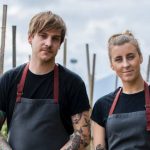 Matt Stone and Jo Barrett. Partners in and out of the kitchen, they met through mutual friends, and knew one another for 'a long-time' before working together. It was working together that they realised they shared a similar ethos. Today Matt is Head Chef at the esteemed Oakridge in the Yarra Valley and Jo is Head Pastry Chef and Senior Sous-Chef and together with their teams they are earning some serious applause in their respective fields. Matt and Jo both worked at Joost's zero waste restaurants Greenhouse by Joost, Silo by Joost and Brothl.
11.20 – Waste-Less Community Panel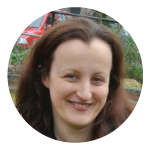 Kirsty Bishop-Fox is an environmentalist, permaculturalist and consultant at Sustainable Pathways. She works with individuals and businesses, to improve sustainability practices. Kirsty is the president of Zero Waste Victoria, leading advocacy and education initiatives to create a world with less waste.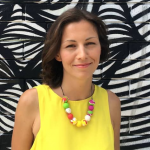 Eliska Bramborova and Tomas Brambora started ShareWaste was started by Eliska Bramborova and Tomas Brambora after they realised there was no suitable service that could enable apartment dwellers, such as them, to recycle their food scraps.
They have developed an app which connects people who wish to recycle their organic waste with their neighbours who can recycle it – turn it into compost, new soil, fertiliser or feed it to their animals.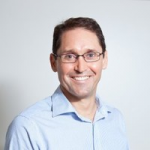 David Paynter had the Gold Coast Tool Library and Repair Cafe set to launch prior to the pandemic. Not deterred he is moving forwards with community building initiatives. David has worked with small business focusing on reducing waste and unnecessary consumption of resources. As an advocate of the sharing and circular economy, David embraces reducing waste as a way of life.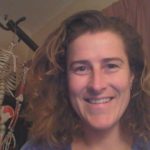 Letitia Howlett – As soon as Letitia could hold a sanding block, she has been assisting in builds. It was a part of her family's culture, helping friends with their projects. She does small projects as a personal hobby and enjoys being part of something bigger. She loves learning and being able to share. Leititia is an active member at Brunswick Tool Library, a community driven library. They offer tools for loan, a repair cafe and workshops, as a community sharing space.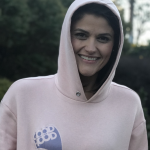 Jo Taranto, is a community advocate and environmental communicator. As co-founder of Good for the Hood, a social enterprise tackling waste and sustainability issues, she has worked with neighbourhoods and businesses all over Australia. She's collaborated with ABC television on the War on Waste series and been a people's panelist on Q and A.
Sunday 7 June
10.00 Slow Fashion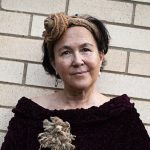 Jane Milburn is a sustainability consultant and author of Slow Clothing: finding meaning in what we wear, a book about living lightly and dressing for health and wellbeing. As an agricultural science graduate, Jane worked for decades as a rural communicator before doing leadership study and establishing Textile Beat. Her forever strategy is to "use what I have to do what I can to ensure a resilient future". She leads conversations about creative and regenerative ways of living at this time of profound change. Her Churchill Fellowship study tour to investigate ways that upcycling can reduce textile waste and enhance wellbeing has been deferred due to the global pandemic. She has switched to a Virtual Churchill called ARISING from Disruption: stories about adaptation, resourcefulness and self-sufficiency.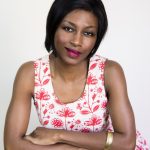 Nina Gbor is the founder of Eco Styles and also Clothes Swap & Style, she is an award-winning sustainability advocate, ethical fashion speaker and eco stylist. In addition to sustainable fashion, Nina also advocates for climate action, poverty alleviation, equality and global female empowerment. She coined the phrase 'get off the fashion trendmill' which means individuality should be the premise for consuming clothing, not fashion trends. Nina has a Master's Degree in International Development and teaches sustainable fashion short courses at RMIT University. She hosts sustainable clothes swaps & restyling workshops as a new system for reducing fashion waste. Nina was awarded Champion of the Year 2018 in the Canberra Women in Business Awards for social impact in sustainability.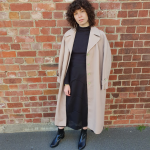 Jenna Flood is a slow fashion stylist, Ironic Minimalist, whose main focus is educating people on issues that surround fast fashion. She advocates for sustainable alternatives such as pre-loved, vintage and clothing made with sustainable practices.
Jenna believes in slowing down our clothing consumption by curating capsule wardrobes and buying for long term investments instead of purchasing on a whim or following short trends. She hopes that in the future, more people invest in the sharing economy by renting or borrowing garments instead of owning them.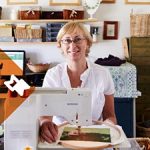 Tamara Russell of Karhina Designs is a Textile Artist specialising in free machine embroidery, hand stitching and mending. Her work has been exhibited in the United Kingdom and Australia
Her practice engages with the natural environment recreating the images and shapes in her embroidered works in both 2 and 3D form.  Tamara finds textiles to be a perfect medium for expressing her thoughts using both hand and machine stitching.
Tamara has been making, altering and mending clothes since a teenager, personalising her wardrobe with visible mending and embellishment. Tamara designs workshops to teach you how to mend and revitalise clothing trying to stop them ending up in landfill. Repairing our clothes enables creativity and individuality whilst reducing impact on the environment. By mending our clothes, we create a bond with them ensuring we wear them longer.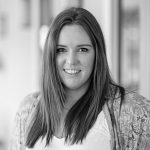 Aife O'Loughlin, Customer Experience Manager for Salvos Store. After honing her retail and marketing skills with L'Oréal, Aife O'Loughlin joined Salvos Stores customer experience team in 2013. As Customer Experience Manager, she strives to continually improve the experiences provided to team members, customers, donors and communities across 350 retail stores throughout Australia.
Aife has a unique understanding of consumer behaviours that impact textile waste and is passionate about Salvos Stores role in creating sustainable solutions in response to these challenges.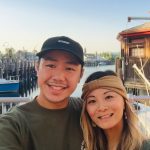 Hai Clothing – Samson Phommachack has worked for KeepCup, responsible for the APAC, Middle East & South Africa markets making sure KeepCup was represented with the same values known and loved in Australia. Leading the re-use movement and educating those markets of the impact of single-use plastics. At Hai Clothing he is the Managing Director responsible for product design and looks after the relationships with partners in Laos.
Courtney Foon is a human-centred designer focused on delivering products, services and experiences informed by those impacted the most. At Hai Clothing she is the Creative Director and an advocate for ensuring the business is ethically and socially sound in its operations and supply chain.
2.00 – The Arts Panel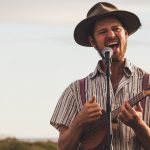 Charlie McGee grew up in a tin shed with a veggie garden, a composting toilet and one solar panel for power in the south-west of Western Australia, Charlie lived the low-impact lifestyle from a young age and realised early on that you don't need a lot to be happy in life.
Nearly a decade ago, Charlie formed Formidable Vegetable – a new kind of band based entirely around principles of sustainable living with the hope of inspiring people everywhere to grow their own food, raise chickens and generally make the world a better place.
He has toured nationally and internationally in the festival scene and made guest appearances in and played alongside various well-known acts including The Cat Empire, Blue King Brown, Bomba, Fat Freddy's Drop, The Rap News, Thom Yorke and The Rolling Stones (actually!)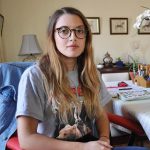 Carla Scotto is a Melbourne based illustrator, designer, and animator. You may know her from such instagram handles as @carladrawz and her eco-sassy artworks, on the screen and on walls, imperfect typography, and her incredible work on Zero Waste Festival's logo and banner designs! Thanks Carla, we love your work!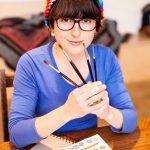 Brenna Quinlan is an illustrator and educator who strives to make the world a better place through her art and her actions. For the past three years she has lived a low-impact lifestyle at Melliodora, the permaculture demonstration site created by permaculture co-originator David Holmgren and his partner Su Dennett in Central Victoria, Australia. There they grow food, milk goats, build soil, engage with community and regenerate the land around them.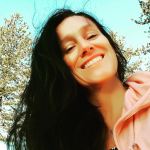 Karin Ecker is an international film maker. She gets help from her friends in the ocean as soon as she is doing something for them. We are all in this together. Her passion is on social and environmental issues. In 2004 she made a documentary called 'Children of the Sea' with children in the Bahamas. (Funded by the Department of Education in Austria), Greenpeace was a partner in the film and used for the International Ocean Conference in Italy. This film has been used as an educational resource in Europe since 2005. Karin is also the mother of Arlian, Plastic Free Boy. Together they have created Plastic Alarm, a 22 minute film presented by 12-year-old Arlian which has been shown to thousands of kids in schools globally inspiring kids around the world about the solutions to plastic pollution and what they can do to make a difference! They become empowered global citizens of the world who create a sustainable future together.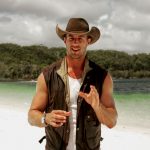 Khory Hancock – The Environmental Cowboy is a media persona created by Australian Environmental Scientist, Khory Hancock. An adventurous young scientist, Khory is passionate about the future of the planet and the people on it and truly believes humanity is the solution; the people will drive the innovation and creativity that is needed to regenerate our forests, oceans and soils to ultimately reverse climate change.
Using social media channels and speaking engagements, The Environmental Cowboy educates the audience on current and future environmental challenges, identifying the solutions to influence behavioural change and empower young people to become better leaders for our future.
3.30 – Young Changemakers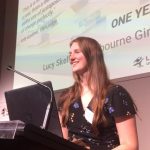 Lucy Skelton is the 18 year old founder and Lead Student Organiser at the Student Voice Network. The national youth platform that empowers young people to take action on the issues that are important to them.
The Student Voice Network is a free, virtual youth platform for students from across Australia to come together, share resources and take collective action on the issues that are important to us. That's climate change, gender equality, waste and so much more! SVN's team members are supported to create their own projects and initiatives that we can share across the nation! If you are or know a young person aged 12-25 who is passionate about change SVN would love to hear from you! Please contact SVN. SVN are a completely student-run and a volunteer-based network that believes in the power of young people and our ability to create meaningful change!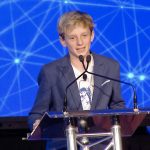 Arlian Ecker – Since 2017, 13-year-old Arlian known as 'Plastic Free Boy', has united over 790 000 children by sharing his inspiring and educational documentary 'Plastic Alarm' in schools internationally, showcasing the problems and solutions of plastic pollution.
He engages school children with his mission in protecting the ocean and our waterways, not only for marine animals but for future generations, by highlighting scientific facts such as microplastic and its effects on human health.
Arlian's ongoing film making campaign and international speaker engagements have been featured on national media, been nominated for the Department of Environment 'Green Globe Awards' and earned him titles such as 2019 Youth Ambassador for 'Clean Up Australia Day' and 'World Clean Up Day'.
As a Plenary Speaker for the Sustainability of Cities at the 2019 Asia Pacific Cities Summit and Mayor's Forum's youngest speaker, Arlian shared how he is uniting and empowering future generations by collaborating with community groups, corporations, and government agencies to co-create a sustainable future. This is his mission.
Arlian is a passionate, inspiring young leader determined to help school students to become global citizens of change. His mother Karin Ecker, the professional filmmaker continues to support his mission with her expertise and ongoing advocacy for the ocean and waterways. She has been working in this space for 30 years and as a European filmmaker/advocate for the ocean has had the pleasure of filming underwater documentaries for TV internationally.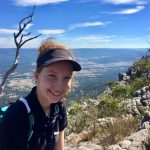 Sarina Hausler is an incredible 16 years old eco-entreprenur that owns an eco-business called Planet Angels. She is passionate about helping the environment and improving the world we live in.
At just 14 year of age, Sarina decided she wanted to make a difference but didn't know where to start and felt like all the items that were eco-friendly, replacements for single use plastic or aimed at reducing waste were really expensive. And so, Planet Angels was born as she thought 'it shouldn't be this hard or this expensive'!
She believes that "if we are going to have a positive impact on our planet, collectively we all need to make some fairly big and rapid changes. Knowing where to start and what to do can be overwhelming for most people."  Through social media and conversations with others, Sarina creates greater awareness of the issues our planet is facing right now. She has a passion to enable people to really talk about the problems we face and how we can win the war on waste and reduce our everyday plastic consumption.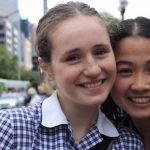 Romy O'Donoghue is the senior school Environment Vice-Captain of the MGC Enviro Team at Melbourne Girls College, the school that made headlines last year with The National Parks Scheme where MGC went bin-free. Romy works alongside the other environment captains to coordinate the environment team and works on a whole host of sustainability projects. Outside of school, Romy is a School Strike for Climate Melbourne organiser, whose roles includes organising events like the September 15 strike in Melbourne. She has also been involved in the Australian Youth Climate Coalition and works alongside them in their campaigns.
Saturday 13 June
9.30 – Recycling and Repair
What is happening to our Recycling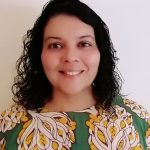 Carolina Aguirre is a member of Zero Waste Victoria and the festival planning team and is currently advocating and educating on different areas of waste in her local community and through Zero Waste Victoria. Carolina is a Community psychologist and uses her expertise in supporting behaviour change and community action.
Rebecca Gleghorn, from REDcycle  has a passion for the environment which kicked off in high school, when she started the Environmental Group and organised recycling bins for her school. She managed a local 'Clean Up Australia' day for the local council at age 16. Fast forward to now, and she promotes the REDcycle programme by managing their online presence, conducting media interviews, and handles consumer enquiries.
Siobhan Slattery is a waste avoidance aficionado, re-use enthusiast and the Waste Strategy & Operations Officer at City of Port Phillip. She combines experience in the corporate and not-for profit sectors with a passion for local government to support communities in navigating complex challenges to realise their sustainability goals.
Joe Agostino from Yarra City council has spent about 3 decades in the waste management industry, from both the local government perspective and the private sector. Approximately 7 years as an industry consultant dealing with municipal, commercial and industrial waste.
Amy Yang – Waste and Litter Education Officer with Mornington Peninsula Shire Council Having worked predominantly in the non-profit sector, a few stints in international development and now local government, sustainability and human interaction with the environment has always been a primary focus. I have worked with youths to create youth led environmental programs, CALD communities in climate education, mangrove and bat conservation, and waste policy and strategy.
Rose McIvar from Recycling made easy will share her tips with those harder to manage recyclables
Kirsty Bishop-Fox, leads the charge with advocacy for Zero Waste Victoria, with a focus on waste and recycling. She also works with individuals, businesses and local councils, to improve sustainability practices, working towards a world with less waste.
MC: Carolina Aguirre
What is Right To Repair
Mend It, Australia is a team of two retirees. Karen and Danny Ellis are self-directed, self-funded and self-resourced volunteers. Since 2015, they have travelled to and volunteered at over 85 organised community repair events around Victoria. They are affectionately known as The Tinkering Travellers.
Their goal is to raise awareness of the value of reusing and repairing the things we own. They also advocate and campaign for Australian right to repair legislation.
12.00 – Reuse: Cloth Nappy Workshop
Elana is the owner of Cloth Nappy Workshops Melbourne and it's active Facebook group. She has been running workshops for the past 3 years and has presented at a number of Council workshops and events, and loves talking about all things reusable!
Focus on Food
2.00 – Rethink: A conversation: Regenerative Farming – Farmers Markets and Social Enterprises
Mark Rathborne – Founder of Save our soil and champion of certified Australian Demeter biodynamic seasonal vegetables for the Melbourne farmers markets.
Most people have heard about organics and maybe a few about bio-dynamics, but what's that all about and how is it different from organics?
Mark's family has been bio-dynamic farming since December 1965 (when he was just 2 years old). Their mission is to inform people of the regenerative nature of bio-dynamic agriculture by growing tasty fruit and vegetables, selling them through farmers' markets and providing information on the subject via their website, speaking engagements and other media.
Hiro Okada – Head chef of Kinfolk and previously Vue de Monde and Silo by Joost. An innovative chef who shares his love of home cooking, travelling via cooking different cuisines at home and finding the joy in zero waste cooking.
Kinfolk celebrates 10 years of creating more inclusive communities, with two cafe's, Kinfolk and Sibling and Events by Kinfolk. Embedded within it is a training program that creates inclusive opportunities for people facing marginalisation, including physical and learning disabilities, mental health challenges, unemployment, transitioning from prison and recent migrants and refugees. Each week upwards of 70 people participate in their program gaining social connection, hospitality skills and confidence with many of them going on to gain paid employment. Sibling currently runs a home delivery and pick up service with 22 aisles of goodies from fresh produce to meal kits to cakes and food relief donations.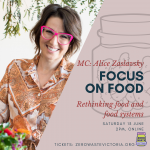 MC: Alice Zaskavsky, Phenomenom – Before making her on-screen debut on MasterChef Australia in 2012, Alice was the youngest dep. head of department at an elite Melbourne school, going on the program to drum up interest in a 'Food & Culture' elective. She has since made the living-room her classroom, hosting kids' food and lifestyle programs Crunch Time and Kitchen Whiz on Nine's Go! Channel and Short Cuts to Glory (for slightly bigger kids) on ABC, where she's also the resident Culinary Correspondent on ABC News Breakfast. On the airwaves, Alice co-hosts a regular VEG SEG on ABC Radio Drive, where listeners call in to share their favourite recipes and anecdotes about seasonal vegetables, and is a regular contributor to ABC Radio National. As Food Editor for The Weekly Review, her Feed was a weekly fixture in 630,000 homes across Melbourne. Her best-selling kids' book, Alice's Food A-Z was the first cookbook to be given a Notable gong by the Children's Book Council of Australia, and her next, for Millennials is due out in November, 2020. Alice has put all of her experience and talents to full use in founding Edible Adventures Productions, putting critical food literacy back on the agenda in schools. Her team's pilot project, Phenomenom, a free digital food literacy program for primary schools funded by industry and government, helps redirect the conversation around kids and vegetables, through clever content and creative execution. Whilst Nomcast, the complementary podcast for families, is quickly becoming a weekly staple on the school commute. When not writing about herself in third person, Alice is most at home tapping out thoughts and sharing audaciously accessible recipes across the Social Media Sphere as @aliceinframes.
2.45 – pREserving & Pickling
3.45 – Rot: Composting – start to finish
Kirsteen MacLeod is the co-founder of the social enterprise The Compost Depot. This startup was awarded a Pick My Project grant for $200k in 2018 to run community compost hubs which reduce food waste going into landfill and turning it into a much-needed resource for our gardens. She is a self-confessed compost nerd with a passion for soil science and gardening. She has a background in chemistry and biochemistry and a master of environment degree. Kirsteen is involved with the Brunswick Tool Library, Zero Waste Victoria, WeCycle Melbourne, Circular Economy Victoria, the Tree Project, and the Cactus and Succulent Society of Australia.
4.30 – Reduce: The Great Aussie pledge: Empowering communities to take action on waste
Josephine Jones, Environmental and litter prevention advocate – Each morning, Josephine (Josie) Jones starts by collecting rubbish on the beach. A single mum, since 2006 she has volunteered over 10,000 hours and countless dollars to improve the water quality in Mornington Peninsula's bays – personally collecting over 5.3 tonnes of rubbish from its shorelines.
Josie devotes every spare moment to stopping litter entering Mornington's waterways, and engaging her community to inspire change. Through personal commitment, public speaking, social media, and consulting with local government, community groups, corporations, schools and businesses, she has educated stakeholders and inspired others to take care of the environment.
Josie's outstanding work has received recognition through awards including the Dame Phyllis Frost Award in 2016, and 2017 Litter Prevention prize from Keep Victoria Beautiful. Currently the Mornington Peninsula Australia Day Citizen of the Year 2019, she is a much-admired local role model.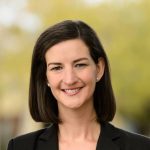 Ellen Sandell is the Greens State MP for Melbourne. She trained as a scientist and has worked hard for social justice all her adult life. Before becoming an MP, she was the CEO of a national climate change non-profit organisation. As the representative for Melbourne, she is fighting for action on climate change, a clean economy and a more caring society in the Victorian Parliament. 
Sunday 14 June
9.30 – First Nations Perspectives
We're all connected – we're all doing our bit, wherever we are, whoever we are. We are a global community united for the planet and a regenerative future. We'll hear from Neil Morris, a Yorta Yorata/Dja Dja Wurrung man, community empowerment and rights advocate and artist (DRMNGNOW).
10.00 – Our Neighbours in Aotearoa/NZ
Te Kawa Robb (Ngāti Awa, Ngāti Ranginui, Ngāi Te Rangi) grew up on the wild south coast of Te Whanganui Ā Tara (Wellington, NZ), strengthening his ancestral connection to the ocean and the natural environment. Te Kawa is passionate about Māori-led environmental restoration projects and self-determination actions, and as kaiārahi (waste advisor) for the Māori Zero Waste organisation, Para Kore, he supports the capacity building of indigenous spaces and groups around Aotearoa. He is a documentary photographer, voyager of traditional Pacific deep ocean sailing canoes, and student of indigenous tertiary institution, Te Wānanga o Raukawa.
10.30 – The Rubbish Trip Story
Liam is co-founder and co-director of The Rubbish Trip, co-founder and events spokesperson of Takeaway Throwaways, Deputy Chair of the Aotearoa Plastic Pollution Alliance, advocate of decentralised composting and urban farming, and a professional jazz musician.
Hannah is co-founder and co-director of The Rubbish Trip, co-founder and policy spokesperson of Takeaway Throwaways, Coordinator of the New Zealand Product Stewardship Council, trustee of the Aotearoa Plastic Pollution Alliance, and has a professional background in public policy and law.
11.00 – Meet our members
Chloe Lines
This Zero Waste Festival team member has lived in many different places in her life – 26 homes, 4 cities and 3 continents to be exact. When she was living in Los Angeles, she realised the physical and mental space our belongings were taking up. Two babies in quick succession certainly highlighted it and no matter how much she sorted and edited and donated, there always seemed to be more. It was then that she discovered zero waste and the joy of living better with less. Chloe is now based down in the Mornington Peninsula and runs her own business the clean lines co.
Caitlyn Socwell 
Working as a physiotherapist, Caitlyn quickly realised the extent of over-consumption of plastic within the healthcare industry and realised that it was time to take action and follow her newfound passion for sustainability and eliminating zero waste. Having started out as just your average run-of-the mill gals, and begun a mission to empower people to live their best lives environmentally through education and social enterprise projects. Funnily enough, this ends up positively impacting on the wallet, tum-tum, health, and over-all outlook on life, all of which she have encountered first-hand on the ride thus far. Follow the journey on Instagram @thewastenotspot and keep an eye out for the soon-to-launch blog.
Carina Turner is passionate about helping people reduce their impact on the world. We can all make small changes to our daily habits, but it's easier when you are supported with a community to help. Women against waste are that community. We're not perfect, but striving to be better.
11.30 – Community Reflection and Learnings
Tammy Logan from Gippsland Unwrapped shares "How getting to know my place has helped me reduce waste in new ways". She shares how staying at home has opened her eyes to what was around her and how she could make use of resources she already had to reduce her consumption, ecological footprint and waste.
Global  Community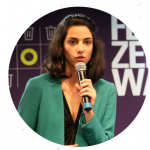 Laura Châtel, advocacy officer of  Zero Waste France –  Facebook – Twitter – Instagram – Created in 1997, under the name of Cniid, Zero Waste France is a citizen and independent association, which works with all audiences: citizens, elected officials, professionals, companies, and has three missions to contribute to it – role as whistleblower, tackle the source of the problem and is mainly funded by donations from citizens, which allows it to remain independent. Hear from Laura Châtel, advocacy officer of Zero Waste France, about what they're up to next!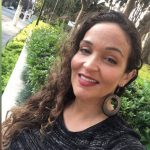 Nipe Fagio ("give me the broom" in Swahili) is a civil society organisation founded in 2013. They aim to empower individuals, especially the youth, the civil society, the private sector and government to build lasting change towards turning Tanzania into a clean and sustainable country, conscious through education of its role on waste management and reduction of pollution (air, water, soil). Ana Le Rocha from Nipe Fagio will share about their latest projects in Tanzania.
12.00 – Coffee body scrub and lip scrub with Shane Gunston
The Zero Waste Victoria Facebook group is a community of super clever individuals looking for solutions and sharing innovations and inspiration to live with less waste. Shane is one of the Admins with a passion for helping people along their zero waste journey.
12.30 – Waste-free deodorant with Mademoiselle Organic
Mademoiselle Organic – Lily's journey to homemade cosmetics started from necessity, conventional products irritated her sensitive skin, the first clue that there must be a healthier option. She now runs Mademoiselle Organic, sharing less wasteful natural beauty alternatives instead of polluting chemicals that often do more harm than good.
1.30 – Zero waste: flattening the curve of growth economics.
Meg Ulman and Patrick Jones – Artist as Family are zero waste changemakers investigating flattening the curve of growth economics. As a family they've made small changes in their daily routines to remove themselves from typical consumer culture, opting for their own ecological economy of place. The @artistasfamily will be letting us in on their zero-waste tips and tricks to transform our homes and communities from taking from the earth, to nourishing it.
2.45 – Design Thinking for Action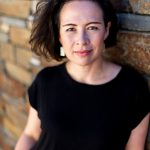 Amy Wilkinson, Founder of My Work Life Design, a platform for women-led, purpose-driven businesses to experiment and collaborate with bold ideas, before launching to the world. MyWorkLife.Design is working to address a range of challenging issues for women in business by providing a safe space for peer-to-peer collaboration, upskilling and coaching using human-centered design as it's backbone.
Amy has vast experience developing and launching brands for family-owned businesses through to global corporates – in Australia, the UK and Europe. Through a desire for independence, flexibility and purpose, Amy turned to freelancing 7 years ago. She leads client teams to develop user-centered business strategies in a variety of industries including healthcare, professional services, recruitment and social impact.
4.00 – Beyond the hacks – principles for waste-free living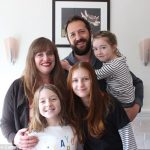 Oberon Carter – Oberon and his family of @spiralgarden have been living zero waste since 2015, and love sharing solutions to challenges they've overcome on the way. Studying ecology at uni for 11 years, he's able to transform permaculture theory into practical waste management solutions. Care for nature and leaving a small ecological footprint are Oberon's core beliefs, he'll be speaking on how we can identify our ethics and values and action them to make a difference
Keep connected on:
You can view our past festivals
Zero Waste Festival 2018
Zero Waste Festival 2019