Zero Waste Victoria has become a sought after education provider in all areas of waste avoidance, recycling, and sustainable practices. We run engaging installations, information stalls, workshops, and talks across Victoria with the aim to make complex topics accessible, build confidence, and encourage connection, leading to positive change and personal empowerment for us all to become environmental stewards the world needs right now.
Our education model is built upon the four key pillars of Integral Theory for behaviour change – these are:
Reasons why they should change habits (knowledge)

Show them how to do it (confidence)

Connect them with others doing it (building community)

Make it easy to change habits (accessibility)
Our work is in constant demand because we are passionate about helping people rethink, refuse, reduce, reuse, repair, share, compost and recycle right.
INFORMATION STALL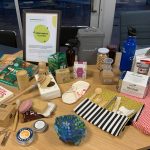 Our information stall is the perfect set up for your festival or other community get together. It's designed to be a safe space for visitors to interact and see the swaps everyday Victorians can make to cut down their waste in all areas of life from reducing plastic, shopping in bulk, cleaning, all the way to ideas for sustainable parenting. There are staff at each stall for visitors to talk with should they wish to ask questions and learn more.
SPEED DATE A ZERO WASTER
A buzzing success at festivals, our speed date option invites visitors to sit down at tables broken up into themes to chat one on one about specific areas like sustainable parenting hacks, zero waste shopping, DIY cleaning ideas, combating food waste and more.
GOING ZERO WASTE (TALK)
Want to help your local community get started on the path to going zero waste? We are here to guide them with a talk designed to cover the basics without the guilt. This talk will take the audience through the steps from understanding why we all need to change our habits and the simple swaps we can make, while also advocating for larger change. This is an uplifting talk designed to inspire.
LOW-WASTE CHEF (TALK)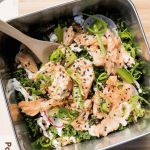 Let one of our experienced speakers take your audience through the basics for avoiding food waste. From m
eal planning, strategic shopping list tips, staples to keep in the pantry and fridge, storage ideas alongside simple recipes home cooks can use to become low-waste chef champions.
DIY WORKSHOPS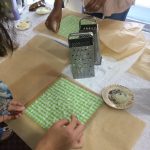 We love helping people feel confident starting their DIY journey for beeswax wraps, house cleaning, personal care, clothing repair. For kids – collage art, tote making, scrunchy making. These are hands-on experiences with the audience taking what they make home. All material supplied.
We have had excellent success mixing and matching our community education offerings at events.
Contact us if you are interested in having Zero Waste Victoria present at your event, school or organisation. Have an idea of your own? Pitch it to us and we'll see if we can accommodate.
Keep connected on: