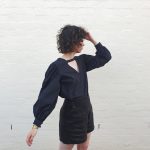 This month we speak with Jenna aka Ironic Minimalist: The Slow Fashion Stylist, who shared some terrific styling tips and tricks at our Clothes Swap @ Queen Vic Market: Restyle your wardrobe the circular way.
Firstly, we'd love to know how does 'zero waste' and fashion come together?
Fashion can sometimes seem as far from zero waste as possible. But we consider what we buy, where it comes from and where it goes, we can make fashion 'Zero Waste'. Aiming to use something to the end of its lifecycle, looking at alternative fabrics to polyester and buying second hand help us to reduce the demand on resources used from the mega-industry that is Fast Fashion.
What's happening in the world of fashion right now in terms of 'zero waste' and fashion?
So many things! Leather alternatives being made from pineapple leaves (which usually goes to waste), fabrics made from rescued sea plastic (known as Econyl). And there are more and more people committing to buying no new clothes, meaning they op shop, swap and rent what they need. Even celebrities are re-wearing their ball gowns on the red carpet! So many movements that marry 'zero waste' and fashion together
How did you begin your journey in slow fashion and what have been some of your highlights so far?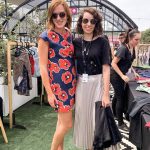 It all began with watching the documentary 'Minimalism' on Netflix. I realised that we don't need so much! While I was researching minimalism, I discovered the full impact of an industry I was very familiar with, Fast Fashion. Learning all about the negative impact of our clothing forced me to stop buying so much and look at alternatives to rapid consumption. I turned my attention to op shopping, sustainable brands and owning less. There have been many highlights. Finding like-minded people has been amazing! I have also held workshops and spoke at events where I can spread the slow fashion message.
Any challenges that you've overcome or find challenging in the world of slow fashion?
It's hard to explain why I shop at op shops or why I don't buy from certain brands to some people. They don't understand that fast fashion and its intensive resource use link to the current climate emergency. They just want something fast and cheap. But I do believe that everyone must find their own way into the slow fashion lifestyle, I cannot push my values upon someone. I can only plant a seed and hope they sow it.
What are some of your styling tips and tricks? Don't worry, you don't have to give them all away 🙂
I love giving all my tips and tricks away! I want us all to feel amazing about what we wear! I love tucking in my tops, it gives me shape and makes me feel confident. I also stick to a minimal colour palette so everything goes together in my wardrobe and I can get the most out of it
Op-shopping and secondhand markets can be quite overwhelming sometimes, what advice do you have for us?
Task it slow. Write a list, give yourself time to explore. Maybe only start with one rail or one section. If you still feel overwhelmed, try a consignment store such as Mutual Muse. Everything is already curated for you. Facebook market place, eBay and Depop are also great as you can search with keywords
How about some recommendations for our community to learn more – any inspiring or informative books, Instagram accounts to follow, blogs to read or podcasts to listen to?
Ohh my favourite question!
The True Cost – sadly no longer on Netflix, but it can be purchased online. Or ask your local community tor run a screening
Clare Press – Clare is the sustainability editor for Vogue. Her podcast, Wardrobe Crisis and book of the same name are a must to listen to and read!
Elizabeth L. Cline – Overdressed, The Shockingly High Cost of Cheap Fashion
Lucy Siegle – To Die For: Is Fashion Wearing Out The World?
Fashion Revolution on Instagram is also a great resource too
Lastly, could you share what else you've been doing in your zero waste journey so far?
My Zero Waste journey is always changing shape and its not perfect. Sometimes I will buy the plastic packet of chips and sometimes I need to buy something from a big box store. I never take these as fails, I just try to do better next time or be more organised. We have been renovating our little unit, and I have been trying to source as much of the furniture and fixtures such as door handles and lights, second hand. It can be hard, but I feel that I have done well.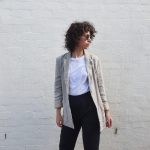 Thanks Jenna for sharing your gems around slow fashion!