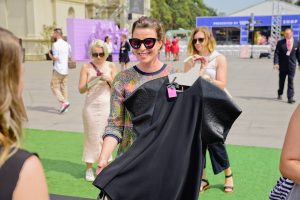 These days the fashion industry is focused on a high turnover, which gives many clothes a short life span. We learned from the War on Waste, that three-quarters of clothing purchased is thrown out within a year, which equates to 6, 000 kg of clothes thrown out every 10 minutes. The Smith Family warehouse processes discarded clothing, which amounts to 13 million kg of clothing every year. Some of these clothes are sold or recycled as rags. but at least 30% goes to waste, in other words land-filled. So giving clothes to charity might feel good, but if you make a new purchase and try to justify it by donating it, then you are adding to fashion waste. To be part of the solution, and support the circular clothing economy you need to switch to pre-owned clothing, which these days means you get almost new clothes at a fraction of the price.
So when I learned of The Clothing Exchange, I thought what a brilliant idea. This concept encourages the circular clothing economy, and creates a community event which can help people to have a better understanding of the impact of the clothes they wear.
The Clothing Exchange concept started in 2003 when Dr Kate Luckins was undergoing a Masters of Fashion at RMIT. She was looking for a way to reconcile a love of fashion and an ecological conscience. As an avid op-shopper, reusing clothes was the only logical way forward for Kate. After extensive research, a clothes swap service was designed and tested. When it was found to be successful, the events continued to grow and have since spread to Sydney and Hobart.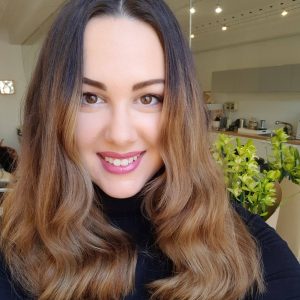 Stacey Kirkby heard about The Clothing Exchange, whilst studying fashion at RMIT. She attended her first swap and absolutely fell in love with swapping. She desperately emailed Kate and pleaded to volunteer. She threw herself at the opportunity and  dedicated time to helping out at and in between clothes swap events. She took photos and posted all over social media and did anything she could to help. That was in 2013 and in 2017 Stacey was asked to run the Melbourne events, which she considers to be her dream job!
I'm delighted that Stacey was happy to answer some questions for us from swapping clothes to caring for them. Here's what she had to say.
How does a clothes swap work?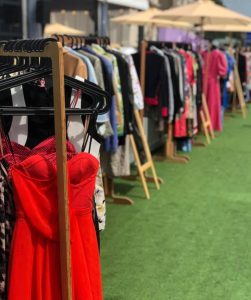 Think of swapping like shopping but without exchanging money. The way our events work is everything is exchanged for buttons. The buttons are our currency. You bring one jacket and get one button. Find a new jacket and hand over your button. Bring three jackets and you get three buttons. We are experts in creating warm and welcoming events where people feel comfortable to swap clothing, accessories, stories and knowledge! We encourage our swappers to tell each other about the clothing they have brought to swap and share their stories of each item.
How receptive have people been to this concept?
We have an incredible group of loyal swappers who attend almost every event. They travel across the city, even as far as Gippsland, to attend! The vibe and energy in the room is always positive and the excitement for new garments is very much apparent.  We love to increase our attendance turnout to each event and we move the event locations around the city to make it easier for people to attend.
Can you quantify the amount of clothing that's been swapped?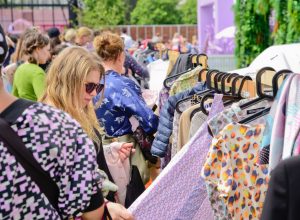 Over 13 years of swapping the amount of clothing that has exchanged hands is an incredible amount. Thinking about that amount of clothing NOT going to landfill fills my heart with so much joy. There are roughly 200-500 items being swapped at each event and we are hosting more and more each year. We have a record number of events happening in Melbourne this year!
What are some highlights of these clothes swap events?
Along with some incredible organisations and venues we have worked with over the years, some of my highlights are the little things that happen. For example; it's quite common for two friends to come along to the swap together and end up finding each other's clothing in the "swapping room" without even realising. Then they'll both get to the checkout counter and burst into laughter as they realise, they've just swapped clothes with each.
We are especially proud of our own charity fundraiser swaps including the 2018 'What She Swaps' event in support of OXFAM Australia's #whatshemakes campaign and our yearly efforts to increase awareness around Fashion Revolution Week.
Who would you love to have attend future swaps?
Anyone who hasn't been to a swap before!
What is your ideal for the future with Clothing Exchange?
Our goal has always been to increase the reach and impact we are having on the community. Our swaps encourage consumers to educate themselves on the potential impacts of what they buy. The greater reach we can get the greater potential for more swapping than shopping!
What are the most sustainable ways to extend your wardrobe?
There are lots of options available to extend, refresh and reinvigorate your wardrobe before buying brand new. Op-shopping is a great place to start because they are easily accessible, affordable and if you choose your location wisely the quality can be incredible! In addition to swapping, there's lots of places you can hire, rent or share your wardrobe. Swapping, renting and sharing are all contributing to extending the life-cycle of clothing items in Australia.
Would you consider a clothes swap to be a fast fashion alternative?
Swapping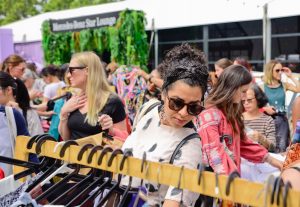 is a great alternative to buying brand new whether from a fast fashion label or from ethical brands. It's a more exciting and engaging way to find pre-loved garments compared to op-shopping. Attending a swap and hearing the stories behind the garments that you find, from the others in the room, helps to strengthen the connection with the new items you take home. This connection ultimately helps with the wearer treating the garment with more care and love.
What's the most unusual item you've seen at one of your swaps?
Maybe not so unusual is the many items of clothing that come through our swaps with the tags still on! This blows my mind that people have clothing in their wardrobes with tags on and unworn. Clothing is made to be worn and loved!
What happens to any unclaimed clothes after a swap?
Depending on the location of the swap we donate all the left-over clothing to a local charity. We have previously donated to the Red Cross, Salvation Army, St Kilda Mums and Save the Children.
Do you have tips for keeping clothes in good condition for longer?
Take the extra time to learn what your clothing is made out of and wash and store them accordingly. Read the tags, ask the brands and do your own research and the fabrics and styles that will work for your lifestyle. When they are looking a little worse for wear, get them repaired or tailored so you can get many more wears out of them.
Can I hold a clothing swap with friends?
Absolutely! I would highly recommend having a clothing swap with friends. Invite the girls over for a wine and cheese night and get everyone to bring 2-3 items you can all swap. My advice is to keep in mind the quality and longevity of the items you are swapping. Would their new owner get a few more years out of them? Are they in good condition with no rips or tears?
How can people find out about your upcoming clothes swaps?
Website – http://www.events.clothingexchange.com.au/
Facebook – https://www.facebook.com/clothingexchangeaustralia/
Instagram – https://www.instagram.com/theclothingexchange/
Did you enjoy this article? Sign up for our newsletter