We would like to celebrate and share some exciting news about the next stage we've taken to grow Zero Waste Victoria. What started as an idea to have a zero waste information stand at a public event has evolved to become a valuable resource for empowering sustainable activations. There is an increasing need to reduce waste, and as a result there has been a call from businesses, schools, all levels of government and community groups for support of their efforts to minimise waste. Zero Waste Victoria has been able to support many of these endeavours and now we're setting ourselves up to expand our capacity to inspire people to reduce waste through everyday choices and actions.
Zero Waste Victoria management committee passed a motion to incorporate as a registered not-for-profit organisation.  This will enable Zero Waste Victoria to further promote and develop educational programs, advocacy campaigns and consultancies to engage and encourage individuals and organisations to conserve our natural resources and to reduce waste and pollution.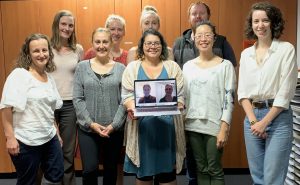 Congratulations and thanks to the office bearers in our founding committee comprising of President – Kirsty Bishop-Fox, Vice-President – Emily Hui, Secretary – Caitlin Rawding and Treasurer – Sylvia Lo Piccolo.
Special thanks to Erin Rhoads, Che Hall and Lisa Sturgess, along with Kirsty and Emily who formed our original core group when we began to take Zero Waste Victoria to community events.
And to our steering committee  comprises Joanne Drennan, Jenna Flood, Erin Rhoads, Lisa Sturgess, Carolina Aguirre, Shane Gunston, Elisabeth van Roosendael, Bianca Cottle, Vicky Rae Ellmore.
You can find out more about Zero Waste Victoria here or you can email info@zerowastevictoria.org.au.